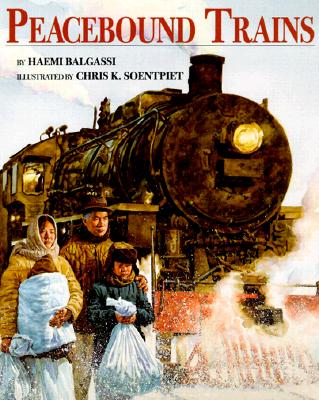 Peacebound Trains (Paperback)
Clarion Books, 9780618040308, 48pp.
Publication Date: March 28, 2000
Other Editions of This Title:
Hardcover (8/16/1996)
* Individual store prices may vary.
Description
While her mother is in the army, Sumi is living with her grandmother, on East Blossom Hill. Perched on her favorite rock, Sumi watches trains wind through the valley below, hears the lonely sound of their whistles piercing the air, and longs for the day her mother will return. The train whistle reminds Sumi's grandmother of a time when a train played an important role in her life too: long ago in Korea, when she and her family escaped Seoul at the last moment before the war came. In poetic language and exquisite paintings, PEACEBOUND TRAINS evokes the landscape and people of Korea and a special grandmother-granddaughter relationship.
About the Author
Born in Seoul, Korea, Haemi Balgassi immigrated to the United States when she was seven. She edits a quarterly literary magazine, writes fiction and poetry for adults, and is an avid Scrabble player. Ms. Balgassi lives in Westfield, Massachusetts, with her family.
Chris K. Soentpiet is an award-winning illustrator whose work reflects his interest in people, history, and culture. He was given the gold medal from the Society of Illustrators in New York City for his illustrations in Haemi Balgassi's Peacebound Trains, and his books have been recognized by the American Booksellers Association, School Library Journal, the International Reading Association, the Junior Library Guild, Parents' Choice, Parents' magazine, and Smithsonian magazine. Soentpiet has a B.F.A. from Pratt Institute. 
 
Praise For Peacebound Trains…
"A lovely combination picture book/chapter book based, according to the author's note, on family memories about the trauma of leaving a beloved home for fear of an invading army; in this case, there is the added tragedy of civil war, with brother fighting brother as South Korea and the Communist North battle over Seoul. . . . In expressive watercolors, Soentpiet provides an accurate look at Korean culture of the 1950s as well as Sumi's contemporary setting." Kirkus Reviews

"While her mother serves a stint in the army, Korean-American Sumi, whose father is dead, lives with her harmuny (grandmother). The child longs for her mother's return, particularly as her birthday nears. Harmuny sits beside Sumi as she watches for a train and tells her the story of the 'peacebound' train that saved her life and the lives of her two children (including Sumi's mother) during the communist invasion of Seoul in 1950. . . . The text, divided into short chapters, is gracefully written and told with great emotion. The richly colored illustrations are splashed with light, and convey the unfolding drama. Facial expressions are particularly effective. A brief glossary of Korean terms and an author's note about the history are appended. Readers will come away from this book with the understanding that the struggle for peace is universal and timeless, and that sometimes sacrifices must be made to achieve it." School Library Journal
or
Not Currently Available for Direct Purchase