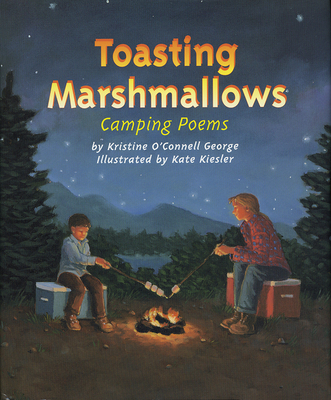 Toasting Marshmallows (Hardcover)
Camping Poems
Clarion Books, 9780618045976, 48pp.
Publication Date: February 28, 2001
Description
Everything that happens when you go camping can be an adventure, from getting dressed inside your sleeping bag on a chilly morning to meeting a moose to sharing secrets in a tent at night. Kristine O'Connell George turns the memorable moments of a family outing into spirited, evocative verse, and Kate Kiesler's vivid paintings provide a cast of characters and the perfect setting. The captivating poems and pictures in Toasting Marshmallows will leave readers with wonderful memories of a camping tripeven if they've never been on one!
Praise For Toasting Marshmallows: Camping Poems…
George deftly describes the satisfying sequence of familiar events in a summer camping experience in this collection of 30 related poems perfectly paired once again with Kiesler's inviting oil paintings (The Great Frog Race and Other Poems, 1998 etc.) The daily rhythms of a camping trip are presented from the "Tent" to exploring an "Abandoned Cabin" to observing "A Doe." Shared common experiences include "Sleeping Bag': "It's so cold outside. I'm getting dressed inside/my sleeping bag. I wriggle, scootch, scrunch, and jiggle. Flop/Front flips, back flipsI'm a caterpillar/in a cozy cloth cocoon/that zips." Short pieces like "Mosquito Song" demonstrate pointed wordplay with a witty use of alliteration and onomatopeia. "It's Meeeeeeeeeeeeeee!/Mosqueeeeeeeeeto!/Is that you, Dinner?/Greeeeeeeeetings." Kiesler expresses the changing vistas of the countryside from the uneasy, dark palette of the double-page spread for "Storm" to the bright, sunshiny view of a field for "Wild Mustard." The changing layout of each page gives a sense of surprise to the most ordinary of events, the words of the concrete poem, "Eavesdropping," "Tipping/a slender/silver ear" placed in the shape of a cresent moon, the stanzas of "Flashlight" positioned in the beams of light to name just a few. Altogether an engaging trip.
Kirkus Reviews

Like their previous collaboration, The Great Frog Race and Old Elm Speaks, this volume by George and Kiesler is as delicious as a toasted marshmallow treat. George's poems are well crafted, varied and easily accessible. The topics range from a tent-shaped poem about the careful raising of the family's canvas lodging to post-trip unpacking, in which a child tucks away a flannel shirt perfumed in scents of pine, wood fire and forest moss in her "bottom drawer/where no one will find it/and wash away [her] memories." Though Kielser's human figures are sometimes wooden, she suffuses her acrylic landscapes with light filtered through leaves. A few of the illustrations seem too idyllic and scrubbed (in "Abandoned Cabin," its "crumbling fireplace" looks newly constructed; in another, the brother's "grubby hands" seem freshly washed). Yet George's poems shine, the images clear and startling. A "panther cloud crosses the sky"; after a storm, a "confetti of birds... dance another rain shower." A concrete poem in the shape of a waning moon is exquisite: "Tipping/a slender/silver ear,/Moon tries/to pretend/she isn't/listening/to our/secrets." Readers will definetly want S-mores.
Publishers Weekly, Starred

"fine collection brings the outdoors up close...direct, satisfying poems that will engage kids at school, across the curriculum, or at home." Booklist, ALA, Starred Review

The poems are varied and inventive, replete with marvelous images and universal truths. . . .A terrific idyll for summertime sharing, even for confirmed couch potatoes.
School Library Journal, Starred

The pleasure and surprise of going camping are conveyed in eighteen brief poems. . . .Richly colored paintings enhance the verses.
Horn Book Guide

Whether playful or profound, the exquisitely crafted poems reverberate with eloquent yet effortless language, while the radiant acrylic artwork hints at the awe-inspiring mysteries of nature.
SLJ Best Books of the Year
Advertisement