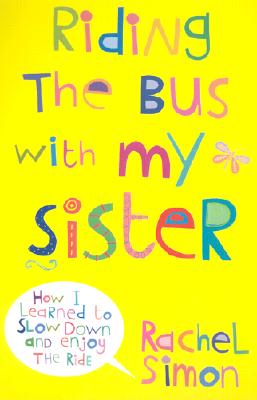 Riding the Bus with My Sister (Hardcover)
A True Life Journey
Houghton Mifflin Harcourt, 9780618045990, 304pp.
Publication Date: August 1, 2002
* Individual store prices may vary.
Description
Rachel Simon's sister Beth is a spirited woman who lives intensely and often joyfully. Beth, who has mental retardation, spends her days riding the buses in her Pennsylvania city. The drivers, a lively group, are her mentors; her fellow passengers are her community. One day, Beth asked Rachel to accompany her on the buses for an entire year. This wise, funny, deeply affecting book is the chronicle of that remarkable time. Rachel, a writer and college teacher whose hyperbusy life camouflaged her emotional isolation, had much to learn in her sister's extraordinary world. These are life lessons from which every reader can profit: how to live in the moment, how to pay attention to what really matters, how to change, how to love—and how to slow down and enjoy the ride.
Elegantly woven throughout the odyssey are riveting memories of terrifying maternal abandonment, fierce sisterly loyalty, and astonishing forgiveness. Rachel Simon brings to light the almost invisible world of mental retardation, finds unlikely heroes in everyday life, and, without sentimentality, portrays Beth as the endearing, feisty, independent person she is. This heartwarming book about the unbreakable bond between two very different sisters takes the reader on an inspirational journey at once unique and universal.
Praise For Riding the Bus with My Sister: A True Life Journey…
"An amazing book...it touched my soul." --Rosie O'Donnell

"This exquisitely written, powerfully observed memoir deserves an enormous readership." --Dorothy Herrmann, author of Helen Keller: A Life

"Poignant, honest, and uplifting...I was moved to tears." --Carol Saline, co-author of Sisters and Mothers and Daughters

"Take this ride-you won't regret it!" --Kathleen Finneran, author of The Tender Land

"I found myself reading more slowly so that the ride would last longer." --Sophy Burnham, author of A Book of Angels

"Riding the Bus With My Sister will change the way you look at the world." --Steven M. Eidelman, Executive Director of the Arc of the United States

"Funny and poignant...This is one bus you won't want to miss." --Don Meyer, Director of The Sibling Support Project
or
Not Currently Available for Direct Purchase