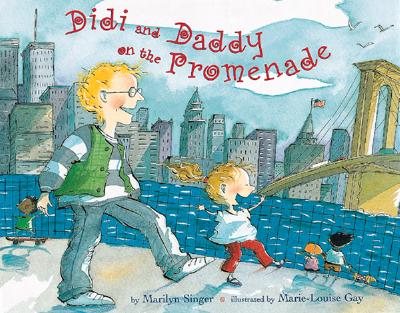 Didi and Daddy on the Promenade (Library Binding)
Clarion Books, 9780618046409, 32pp.
Publication Date: March 1, 2001
* Individual store prices may vary.
or
Not Currently Available for Direct Purchase
Description
Didi's in a hurry to take her father to the best place on earth--to the Brooklyn Promenade Will she see dogs out for a walk? Will she hear a trumpet tune? One thing's for sure, there are plenty of surprises in store for Didi and Daddy as they spin, swirl, and twirl down the dizzy, busy, perfect Promenade. Here is a book that captures not only the sights and sounds of one of New York's main attractions but also the playful relationship between a spirited little girl and her dad. Marilyn Singer's bouncy, rhythmic text is paired with Marie-Louise Gay's vibrant illustrations, making this an ideal choice for preschoolers.

Praise For Didi and Daddy on the Promenade…
"Both words and art, which shows Manhattan's skyline, delightfully capture a toddler's idea of a festive day as they celebrate a father-daughter relationship." Booklist, ALA

"Singer (On the Same Day in March) sets her upbeat tale on the Brooklyn Heights Promenade, a walkway that borders the East River and offers a prime view of the lower Manhattan skyline. On a Sunday morning, frisky Didi and her (possibly single) father take in the sights and sounds of the bustling Promenade, "the best place on earth." They variously pretend to be trucks and boats, dance to the music of street musicians and romp in a playground with another dad and daugther. The author sticks to brief phrases, as when the duo spot pets: "'Puppy!' says Didi. 'Little yellow puppy.' 'Dog!' says Daddy. "Big black dog.' " Gays' (Stella, Star of the Sea) animated, inventively detailed watercolor and pen-and-ink pictures capture Didi's effervescence and introduce an entertaining supporting cast in the other spirited visitors to the Promenade. And kids familiar with the book's locale will enjoy identifying such landmarks as the Statue of Liberty, the Brooklyn Bridge and the World Trade Center towers." Publishers Weekly

"Singer (On the Same Day in March) sets her upbeat tale on the Brooklyn Heights Promenade, a walkway that borders the East River and offers a prime view of the lower Manhattan skyline. On a Sunday morning, frisky Didi and her (possibly single) father take in the sights and sounds of the bustling Promenade, "the best place on earth." They variously pretend to be trucks and boats, dance to the music of street musicians and romp in a playground with another dad and daugther. The author sticks to brief phrases, as when the duo spot pets: "'Puppy!' says Didi. 'Little yellow puppy.' 'Dog!' says Daddy. "Big black dog.' " Gays' (Stella, Star of the Sea) animated, inventively detailed watercolor and pen-and-ink pictures capture Didi's effervescence and introduce an entertaining supporting cast in the other spirited visitors to the Promenade. And kids familiar with the book's locale will enjoy identifying such landmarks as the Statue of Liberty, the Brooklyn Bridge and the World Trade Center towers." Publishers Weekly

The ending will make listeners want to run out and play in the puddles.
The Bulletin of the Center for Children's Books

"A preschooler drags her father from his comfy bed for adventures on the landmark Brooklyn Promenade. Well-known as a tourist magnet for its striking views of Manhattan from across New York City's East River, the Promenade is also a haven for the urban residents. Singer's (The Circus Lunicus, 2000, etc.) well-chosen spare sentences describe the simple joy of early childhood. "What will she see today?/ A blue car?/ A yellow car?/ A ship with a flag?" Delightful interactions of father and daughter, " 'Vroom! Zoom!' roars Didi./ 'Wide glide,' says Daddy./ Side by side they pretend to ride." Singer masterfully captures the young girl's short attention space from page to page: vehicle spotting, petting puppies, listening to birds, cars and music, dancing, meeting friends, sliding, playing in the sandbox — all of this on a ribbon of pavement built above the Brooklyn/Queens expressway. Parents will recognize the knowing refrain "Didi go slow!'/ But Didi says, 'No!' " The watercolor and pen-and-ink illustrations capture the distinctive qualities of each inhabitant enjoying the day, from the movement of the street musicians to the multitude of dogs, in addition to portraying the uniqueness of place — the wind blowing inland, the light on the river. Small details reflect a knowing eye while giving readers lots to examine. The sweeping panoramic views are strikingly reproduced on double-paged spreads and those who know the area can spot familiar sites from the Statue of Liberty to the twin towers on down to the Brooklyn Bridge." Kirkus Reviews

The rhythmic text flows smoothly, and the double-page bright, pastel illustrations depict the light mood of the story.
School Library Journal

The energy of the cartoonlike watercolor and pen-and-ink illustrations is infectious, while the text repeats the pattern of looking, enjoying, and racing on.
Horn Book Guide
Advertisement