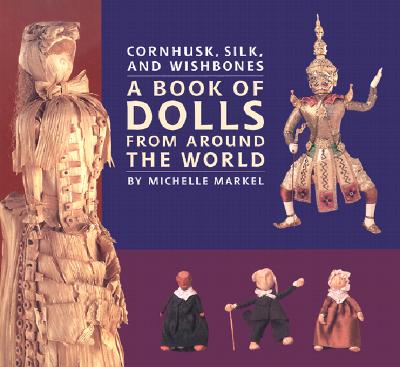 Cornhusk, Silk, and Wishbones (Library Binding)
A Book of Dolls From Around the World
Houghton Mifflin Books for Children, 9780618054879, 48pp.
Publication Date: September 1, 2000
* Individual store prices may vary.
Description
They are fashioned out of materials as varied as themselves wishbones, apples, clay, bread, ivory, palm leaves, and sealskin. They come from the tropics and the tundra, the desert and the mountains, from times of war and times of peace. What they wear tells us of their homes. Their faces are calm, fierce, beautiful, wistful, ugly, inscrutable. Dolls have been cherished throughout time by children all around the world children who have carried them, dressed them, and whispered secrets to them.
With haunting photographs and a text that speaks poignantly of the time when children must leave their dolls behind, this book captures the uncanny and enduring comfort of dolls.
Michelle Markel wrote this book out of a deep affection for dolls and for folk art. She was given the idea for her book by a little green and purple doll, an alebrije, in a glass case at a Mexican folk art exhibit. She believes that dolls have the power to lead children into worlds not their own.
Praise For Cornhusk, Silk, and Wishbones: A Book of Dolls From Around the World…
"An alphabet of dolls from many countries and time periods displays each with a handsome full-page photograph accompanied by a brief description. There are dolls made from cornhusks, wood, cloth, wishbones, apples, clay, china, yarn, and even bread. . . . An attractive title for display or reading, this should have a wide audience." —Kirkus Reviews (9/1/00) Kirkus Reviews

"Plenty of intriguing information for doll lovers and history buffs." —Booklist 10/01/00 Booklist, ALA

"An intriguing look at dolls as a reflection of the civilizations that created them and an attractive, informational alphabet book." —School Library Journal (12/00) School Library Journal
or
Not Currently Available for Direct Purchase