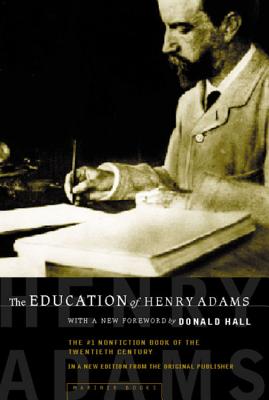 The Education of Henry Adams (Paperback)
An Autobiography
Mariner Books, 9780618056668, 544pp.
Publication Date: April 27, 2000
Other Editions of This Title:
Digital Audiobook (6/30/2007)
Digital Audiobook (5/11/2008)
Paperback (11/28/2017)
Paperback (1/26/2020)
Paperback (3/15/2007)
Paperback (6/9/2020)
Paperback (10/22/2017)
Paperback (3/9/2017)
Paperback (4/1/2020)
Paperback (2/9/2020)
Paperback (9/9/2017)
Paperback (6/9/2017)
Paperback (6/12/2017)
Paperback (11/8/2018)
Paperback (10/5/2017)
* Individual store prices may vary.
Description
Few books have so firmly established their place in American literature as The Education of Henry Adams. When it was first published in 1918, it became an instant bestseller and went on to win the Pulitzer Prize. More than eighty years later, in an age of self-reflection and exhaustive memoirs, The Education still stands as perhaps the greatest American autobiography. The son of a diplomat, the grandson and great-grandson of two American presidents, a man of extraordinary gifts and learning in his own right, Henry Adams recounts his life from his birth in 1838 and upbringing as a Boston Brahmin, through the Civil War, the nation's industrial expansion, and its emergence as a world power. In the process, he gives us a brilliant history of a changing country as well as a thoughtful, humane, often tender exploration of himself. From the original publisher, this edition of The Education of Henry Adams, newly introduced by Donald Hall, celebrates and honors this classic work on what it means to be an American.
About the Author
DONALD HALL (1928-2018) served as poet laureate of the United States from 2006 to 2007. He was a member of the American Academy of Arts and Letters and a recipient of the National Medal of the Arts, awarded by the president.
Praise For The Education of Henry Adams: An Autobiography…
"The pleasure of reading The EDUCATION is the pleasure of seeing history come alive." -- Alfred Kazin