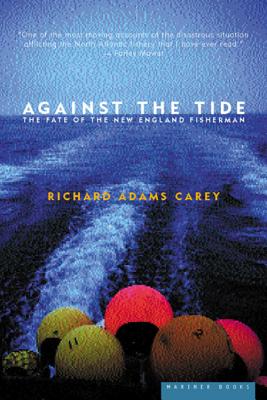 Against the Tide
The Fate of the New England Fisherman
Paperback

* Individual store prices may vary.
Description
With its spectacular beaches and charming towns, Cape Cod is known around the world as a vacation spot and a summer retreat for the well-to-do. But there is another Cape Cod, a hidden, hardscrabble, year-round world whose hunter-gatherer economy dates back to the Bay Colony. The world of the independent fisherman is one of constant peril, of arcane folkways and expert knowledge, of calculated risk and self-reliance -- and of freedom won daily through backbreaking, solitary work. It is a way of life deep in the American grain.
Haunted by the numbers of family fishermen who have recently been forced to abandon the profession, Richard Adams Carey spent a year among a handful of men who stubbornly refuse to do so. Reminiscent of the work of William Warner and Joseph Mitchell, AGAINST THE TIDE is a masterly profile of four New England fishermen in which every page opens onto something more profound: maritime history, maritime ecology, and the poetic celebration of a special American place.
Praise For Against the Tide: The Fate of the New England Fisherman…
"Carey adeptly weaves many strands into a compelling, lucid story line, which should be required reading for the policymaker and concerned citizen." Sea History

"A compassionate chronicle of a threatened way of life." The New York Times

"This book should be read for its balanced portrayal of a New England fishery, but more than that it exemplifies the classic conflict between natural and human resources. Yes, it is true that certain kinds of fishing are very destructive. But Carey is also a humanist and a journalist of considerable depth, who weaves the fate of men and fish together into a whole story." The Washington Post
Mariner Books, 9780618056989, 400pp.
Publication Date: June 15, 2000
About the Author
Richard Adams Carey was born in Connecticut and educated at Harvard College. After his graduation, in 1973, he went to work in a northwestern sawmill, and he has since divided his time between Alaska and New England.