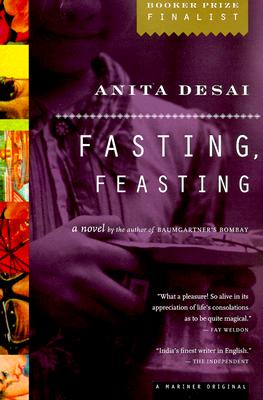 Fasting, Feasting (Paperback)
Mariner Books, 9780618065820, 240pp.
Publication Date: January 3, 2000
* Individual store prices may vary.
Description
Anita Desai's new book, hailed as "unsparing, yet tender and funny,"* brilliantly confirms her place among today's foremost Indian writers. FASTING, FEASTING takes on Desai's greatest theme: the intricate, delicate web of family conflict. It tells the moving story of Uma, the plain older daughter of an Indian family, tied to the household of her childhood and tending to her parents' every extravagant demand, and of her younger brother, Arun, across the world in Massachusetts, bewildered by his new life in college and the suburbs, where he lives with the Patton family. Published in Britain to rave reviews, FASTING, FEASTING is "rich in the sensuous atmosphere, elegiac pathos, and bleak comedy at which the author excels" (The Spectator). From the overpowering warmth of Indian culture to the cool center of the American family, it captures the physical -- and emotional -- fasting and feasting that define two distinct cultures. *(Times Literary Supplement)
About the Author
ANITA DESAI is the author of Fasting, Feasting, Baumgartner's Bombay, Clear Light of Day, and Diamond Dust, among other works. Three of her books have been shortlisted for the Booker Prize. Desai was born and educated in India and now lives in the New York City area.
Praise For Fasting, Feasting…
"Through the deceptively simple juxtaposition of opposites and the interweaving and repetition of themes in these two narratives, Desai builds a complex and elegant fiction." Boston Globe

"Desai is more than smart; she's an undeniable genius." The Washington Post

"What a pleasure! She is really one of the most accomplished novelists writing today-- the book flows like water, it comes like a gift to the parched. Heart-rending, yes of course, being about how rescue never comes, but so alive in its appreciation of life's consolations as to be quite magical." -- Fay Weldon

"Short-listed for the 1999 Booker Prize, Desai's stunning new novel...looks gently but without sentimentality at an Indian family...she has much to say in this graceful, supple novel about the inability of the families in either culture to nurture their children." Publishers Weekly, Starred

"Anita Desai is considered one of the foremost Indian authors writing in English. Her novels convey the tangled complexities of Indian tradition, with an economy of language that is clean, simple and elegantly straightforward." The Denver Post

"It is Desai's great accomplishment to portray the worlds of the brother and sister as not simply opposites (as the title might suggest), but as sharing similar forces of family pressure, parental expectation and sibling rivalry. Desai's characters are wonderfully, fallibly human as they wend their way through the maze of everyday domestic tensions." The San Francisco Chronicle

"Anita Desai is a wonderfully subtle writer who acheives her powerful and poignant effects by stealth rather than direct action." Salon

"Fasting, Feasting posits food as a metaphoer for emotional sustenance. Everything centers around food. Desai, who teaches writing at the Massachusetts Institute of Technology, tells the story with lapidary prose, creating intimate scenes as detailed as Indian miniature paintings. An accumulation of small details as steady and fine as drops of small rain create and eventual flood that drowns the happiness and the hopes of both Arun and Uma." The Seattle Times

"The Indian-born novelist and MIT writing instructor (Desai) deftly conveys the comic horror of escaping the constraints of family and navigating an alien culture, in this case, ours." Boston Magazine

"The peerless chronicler . . . [of] a world which is already disappearing." The Independent