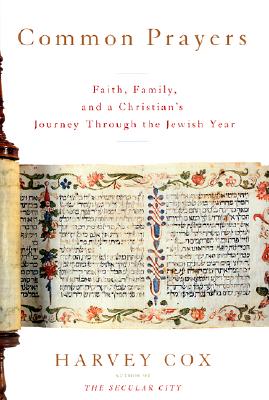 Common Prayers: Faith, Family, and a Christian's Journey Through the Jewish Year (Hardcover)
Faith, Family, and a Christian's Journey Through the Jewish Year
Houghton Mifflin Harcourt, 9780618067435, 320pp.
Publication Date: September 1, 2001
* Individual store prices may vary.
or
Not Currently Available for Direct Purchase
Description
Harvey Cox, the distinguished Christian theologian and scholar of religion, has a Jewish wife and son. From the Passover meal to the weekly Sabbath candles, from the marriage chuppah to the walls of old Jerusalem, he has shared in the joys and responsibilities of the Jewish faith. Celebrating the Jewish holidays, he has had the opportunity to reflect on the essence of Judaism and its complex relationship to Christianity, an experience that continues to deepen his understanding of his own faith.
In COMMON PRAYERS, Cox takes readers on an intimate journey through the Jewish year. An insightful and charming guide, he illuminates the meanings of Yom Kippur and Rosh Hashanah and the "December madness" of Chanukah and Christmas, as well as those of less well known holidays such as Sukkot and Simchat Torah and of events such as death and marriage. Describing in elegant, accessible language the holidays' personal, historical, and spiritual significance and the lessons they offer us, Cox brings a unique perspective to this encounter with a faith not his own. As seen through his eyes, the Jewish holidays become a wellspring of discovery and reflection.
For many Christians, this book will offer a revelation of the rituals and traditions practiced by Jewish friends and relatives and an occasion to reflect on their own faith. For Jews, a Christian theologian's thoughtful view of their religion is certain to bring new and refreshing insights. And for every reader, COMMON PRAYERS promises a deeply touching journey, full of surprises, across the lines of faith and an opportunity to contemplate the wider context of his or her own spirituality.
Praise For Common Prayers: Faith, Family, and a Christian's Journey Through the Jewish Year…
"Warmth, humor, and first-rate scholarship ...[for] those considering intermarraige, and those... who simply would like to learn more about Judaism."--Kirkus Reviews Kirkus Reviews

"An illumination and a challenge, COMMON PRAYERS is a masterpiece of inter-religious meditation....[A] new phase of Jewish-Christian understanding."--James Carroll, author of CONSTANTINE'S SWORD: The Church and the Jews

"What a wonderful book. Every Jew and Christian facing the possibility that a family member will intermarry--which means virtually everyone--must read Harvey Cox's memoir-journey-analysis of what it means to be a committed Christian married to a committed Jew raising a Jewish child....[H]e insists that the children of every Jewish-Christian intermarraige must be raised as Jews. This is truly a book for the future. It helps to define what the relationship between Jews and Christians must become as we increasingly become members of the same family."--Alan Dershowitz, author of SUPREME INJUSTICE: How the High Court Hijacked Election 2000

"Can two traditions be fully and equally honored in their distinct differences, and that in a manner that both partners find enriching the life of their family? In this book Harvey Cox affirms that possibility, and it takes a theologian to do so both in a personal and a convincing way. For thinking about God is not a zero sum game."--Bishop Krister Stendahl, former dean Harvard Divinity School

"Cox has taken a closer and more sympathetic look at Judaism as actually lived than any other non-Jewish writer ever."--Rabbi Arthur Green, Brandeis University

"Accessible and engaging, Cox blends stories of his personal journey with humor and a scholar's insight." The Los Angeles Times
Advertisement