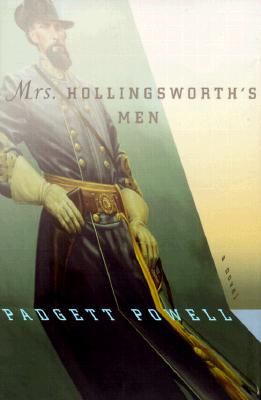 Mrs. Hollingsworth's Men (Hardcover)
Houghton Mifflin, 9780618071685, 134pp.
Publication Date: November 20, 2000
* Individual store prices may vary.
Description
At her kitchen table somewhere in the South, Padgett Powell's narrator embarks on a spirited and often hilarious imagining of certain historical figures and current national preoccupations. Ostensibly writing her grocery list, Mrs. Hollingsworth most happily loses her sense of herself. Her list becomes a discovery of the things she has and those she lacks, including men -- even her own husband.
Mrs. Hollingsworth begins her list by imagining a lost-love story in which she is playful with and disdainful of the conventions of Southern literature. Soon tiring of that, she decides to turn up her imagination. For reasons unclear to her, the Confederate general Nathan Bedford Forrest, an icon of the Lost Cause, rides into her tired lost-love story. He appears as a hologram created by a media giant, Roopit Mogul, who aims to find the real New Southerner -- in a man who can recognize General Forrest's image. Into this surreal atmosphere enter Mrs. Hollingsworth's all too real daughters, the forgotten husband, Mr. and Mrs. Mogul, the boys of the neighborhood, and petty criminals named Oswald and Bundy. Within this singular narrative collage, strong tenderness arises, with accounts of genuine lost love, both familial and wholly romantic. MRS HOLLINGSWORTH'S MEN is a remarkable achievement, full of style and feeling.
Praise For Mrs. Hollingsworth's Men…
When asked for a list of the best American writers of the younger generation I invariably put the name of Padgett Powell at the top." -- Saul Bellow

"Padgett Powell takes big risks, and he wins every time." --Josephine Humphreys

"Nobody else talks to you like this." --Pete Dexter

"an admirably sentimental affirmation of creativity and the possibility of love." The San Francisco Chronicle
or
Not Currently Available for Direct Purchase