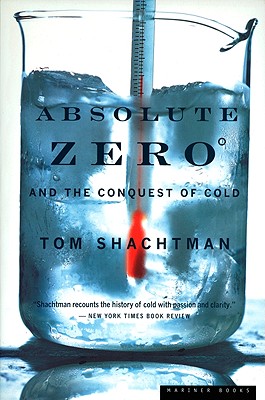 Absolute Zero and the Conquest of Cold (Paperback)
Mariner Books, 9780618082391, 224pp.
Publication Date: December 12, 2000
* Individual store prices may vary.
Description
In this engrossing scientific chronicle, a perennial paperback favorite, Tom Shachtman combines science, history, and adventure in the story of our four-centuries-long quest to master the secrets of cold. Now a documentary based largely on Shachtman's acclaimed book promises to bring these exhilarating scientific accomplishments to a new audience. Underwritten by the National Science Foundation and the Alfred P. Sloan Foundation and set to air on PBS and the BBC, the documentary was produced by British Emmy Award winner David Dugan, in collaboration with Meredith Burch of Meridian Productions in Washington, D.C.

Absolute Zero and the Conquest of Cold demonstrates how temperature science produced astonishing scientific insights and applications that have revolutionized civilization. It also illustrates how scientific advancement, fueled by fortuitous discoveries and the determination of individuals, shapes our understanding of and relation to the world.
Praise For Absolute Zero and the Conquest of Cold…
"A lovely, fascinating book, which brings science to life." --Alan Lightman

"Schachtman . . . holds the reader's attention with the skill of a novelist." --SCIENTIFIC AMERICAN