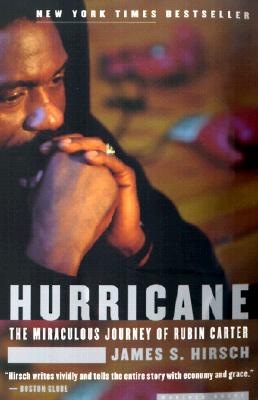 Hurricane (Paperback)
The Miraculous Journey of Rubin Carter
Mariner Books, 9780618087280, 368pp.
Publication Date: October 20, 2000
Other Editions of This Title:
Hardcover (1/1/2000)
* Individual store prices may vary.
Description
In 1967, the black boxer Rubin "Hurricane" Carter and a young acquaintance, John Artis, were wrongly convicted of triple murder by an all-white jury in Paterson, New Jersey. Over the next decade, Carter gradually amassed convincing evidence of his innocence and the vocal support of celebrities from Bob Dylan to Muhammad Ali. He was freed in 1976 pending a new trial, but he lost his appeal -- to the amazement of many -- and landed back in prison.
Carter, bereft, shunned almost all human contact until he received a letter from Lesra Martin, a teenager raised in a Brooklyn ghetto. Against his bitter instincts, Carter agreed to meet with Martin, thus taking the first step on a tortuous path back to the world. Martin introduced him to an enigmatic group of Canadians who helped wage a successful battle to free him. As Carter orchestrated this effort from his cell, he also embarked on a singular intellectual journey, which led ultimately to a freedom more profound than any that could be granted by a legal authority.
About the Author
James S. Hirsch, a former reporter for the New York Times and the Wall Street Journal, is the author of Cheating Destiny, the bestseller Hurricane: The Miracle Journey of Rubin Carter, Riot and Remembrance: The Tulsa Race War and Its Legacy, and Two Souls Indivisible: The Friendship That Saved Two POWs in Vietnam. He is also a principal of Close Concerns, a consultancy and publishing company that specializes in diabetes. He lives in the Boston area with his wife, Sheryl, and their children, Amanda and Garrett.
Praise For Hurricane: The Miraculous Journey of Rubin Carter…
"Hirsch writes vividly and tells the entire story with economy and grace."

Boston Globe

"A compelling, well-researched, and balanced antidote to the Hollywood caricature of Mr. Carter's odyssey."

The Wall Street Journal

"A sturdy, detail-exhausting page-turner that recalls A CIVIL ACTION."

Newsday