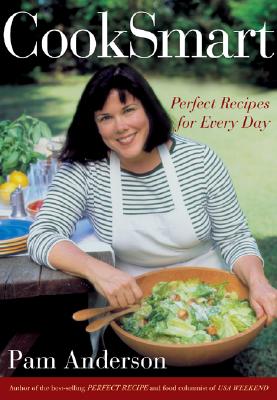 CookSmart
Perfect Recipes for Every Day
Hardcover

* Individual store prices may vary.
Description
Perfection has never been so convenient.
Pam Anderson's infallible renditions of favorite dishes have made her America's most trusted cook. In COOKSMART, she returns with can't-fail recipes for everyday meals we all love, from spaghetti and meatballs, oven-fried chicken, and fajitas to foods for special occasions like crab cakes and vegetable lasagna. Pam knows today's cooks are too busy to tolerate less than superb results. She has tested and retested every recipe dozens of times so each one works flawlessly in real cooking and entertaining situations.
Cooking smart is about cooking sensibly. It means reducing the time and effort that go into a dish while delivering every bit of the flavor. You'll find oven-cooked ribs as succulent as those barbecued all day over a fire, a voluptuous chocolate cake as easy as a boxed mix, and cinnamon buns as fragrant and pillowy as they are convenient.
Cooking smart also means creating dishes the whole family can enjoy, such as turkey burgers as juicy as the best all-beef burgers but much lower in fat and cholesterol, and a crisp and creamy Caesar salad that isn't made with raw eggs.
COOKSMART recipes eliminate the unnecessary steps and troublesome quirks that keep you from making your favorite dishes. You'll learn how to prepare a pot roast as juicy and tender as the old-fashioned kind in just ninety minutes. You won't need special equipment for the meals in this book. Every ingredient used can be found in your local supermarket.
In COOKSMART, you'll be able to choose from dozens of holiday standbys: fresh shrimp cocktail, stuffed mushrooms, beef tenderloin for a crowd, silky pumpkin pie, and perfect pecan pie. And you'll find just as many effortless family-pleasing meals to rely on during the week, such as chicken Parmesan and Pork Tenderloin with Curried Apple Crust, which comes with many flavor variations.
In every case, cooking smart means making a dish the very best it can be: a gazpacho chock full of summer-vegetable flavor, a pasta salad that -- for once! -- tastes as good as it looks, and a peach pie with a crisp crust and a fruity flavor that slices to perfection.
In COOKSMART, you'll not only get more than a hundred impeccable dishes that will become part of your cherished repertoire, but you'll acquire a wealth of culinary knowledge that you can apply to other recipes.
Praise For CookSmart: Perfect Recipes for Every Day…
"Pam Anderson is as tenacious as a junkyard dog when it comes to perfecting a recipe." Boston Herald

Anderson has once again produced a winner.
Publishers Weekly, Starred

Anderson continues to uphold her reputation as a scrupulous, dedicated and no-nonsense adviser to the home cook. The Washington Post

If you're a fan of Pam Anderson's "The Perfect Recipe" and "How to Cook without a Book", her "CookSmart" won't disappoint. The Oregonian

(cooksmart) is a book that you'll find yourself reaching for over and over.
The New York Daily News

"Packed with kitchen-science insights, creative solutions and irresistible recipes, this is one of those rare cookbooks that begs to be read cover to cover." - Miami Herald
Houghton Mifflin Harcourt, 9780618091515, 348pp.
Publication Date: May 1, 2002
or
Not Currently Available for Direct Purchase