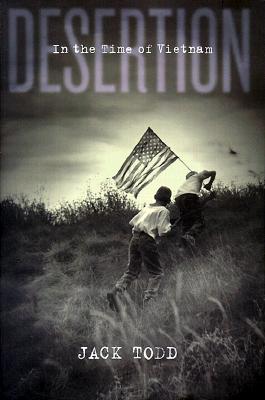 Desertion
In the Time of Vietnam
Hardcover

* Individual store prices may vary.
Description
In 1969, Jack Todd was twenty-three and happy beyond his dreams. He had left behind a hardscrabble youth in a small Nebraska town, had an exciting and enviable job as a reporter on the Miami Herald, and was wildly in love with his beautiful Cuban-American girlfriend. As the war in Vietnam drew closer, he assumed that he would fight, as the men in his family had always fought, though he was increasingly troubled by America's role there. His oldest friend had just returned from Vietnam and was already showing signs of the war-caused trauma that would destroy him; he had seen and done things too terrible to describe. He begged Jack to dodge the draft, to go to Canada. Nevertheless Jack entered the army and completed basic training. On leave before his departure for Vietnam, he agonized over a momentous decision. By now deeply opposed to the war, he crossed the border into Canada, leaving behind his family, the girl he loved — and his beloved homeland.
Now one of Canada's most successful journalists, Jack Todd is a remarkable writer of great power and vibrancy. It has taken him thirty years to come to terms with the guilt and shame of desertion, to break the silence, to tell this controversial, important, profoundly American story. In a dark century, when many "only obeyed orders," he chose not to. This is an intensely moving personal story told with passion and literary verve, as well as an eloquent account of a tortured time in American history. It is hard to put down, and impossible to forget.
Praise For Desertion: In the Time of Vietnam…
"America lost some of its best men in the Vietnam war - including those who chose exile. Desertion mitigates that loss by bringing back a voice, long missing, to finish the story. Jack Todd's is a clear, brave, truthful rendition of the other experience this nation had, and we need it now more than ever." -James Carroll, author of An American Requiem and Constantine's Sword

"Jack Todd has written a deeply personal, wholly compelling memoir about a time in American history that haunts us all. We can only be grateful for the power and straightforward honesty of his writing. This book will live." -Robert Kotlowitz, author of Before Their Time

"Desertion is an intensely moving, unique war story. In a voice that captures both the moral stalwartness and impetuousness of youth, Jack Todd delineates the hidden costs of the Vietnam war, how it not only tore apart the lives of the men who served, but equally derailed the life on one man who refused to serve." -Jill Ciment, author of Half a Life and Teeth of the Dog

"Jack Todd, in his remarkable, harrowing tale, shines light on an all too easy forgotten aspect of the Vietnam era, with the immediacy of a journalist and the lyracism of a novelist. Desertion is a fascinating read, all the more so for its being true." -David Rakoff, author of Fraud

"This book deserves a high place in the literature of America's war in Vietnam...a stunning account." -- Tim O'Brien
Houghton Mifflin Harcourt, 9780618091553, 304pp.
Publication Date: April 1, 2001
or
Not Currently Available for Direct Purchase