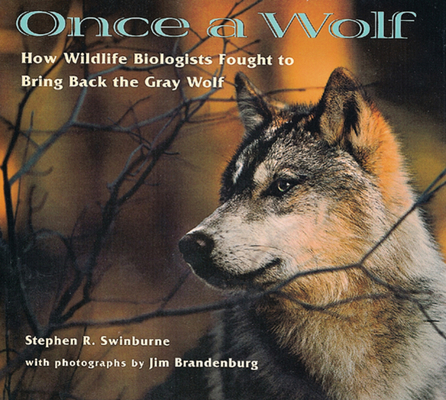 Once A Wolf (Paperback)
How Wildlife Biologists Fought to Bring Back the Gray Wolf (Scientists in the Field Series)
HMH Books for Young Readers, 9780618111206, 48pp.
Publication Date: February 26, 2001
Other Editions of This Title:
Prebound (2/26/2001)
Hardcover (3/26/1999)
* Individual store prices may vary.
Description
With powerful and rare photographs by Jim Brandenburg, Once a Wolf explores the long, troubled relationship between humans and wolves. The book traces the persecution of the wolf throughout history and also reveals the role scientists have played in wolf preservation. The work of scientists can often seem mysterious and intimidating to the nonscientist. No longer! Introducing an exciting perspective on the important work of scientists in all areas of research and study. Scientists in the Field show people immersed in the unpredictable and dynamic natural world, making science more accessible, relevant, and exciting to young readers. Far from the research laboratory, these books show first-hand adventures in the great outdoors - adventures with a purpose. From climbing into a snake den with thousands of slithering snakes to tracking wolves, readers experience the thrill of discovering the unknown.
About the Author
STEPHEN SWINBURNE is the author of numerous children's books about nature. A lifelong naturalist, he lives in South Londonderry, Vermont.  
Praise For Once A Wolf: How Wildlife Biologists Fought to Bring Back the Gray Wolf (Scientists in the Field Series)…
Jim Brandenburg's unparalleled wildlife photographs illustrate this cogently organized and skillfully designed account of the reintroduction of gray wolves to Yellowstone National Park. Beginning with a historical overview of wolf conservation, Swinburne and Brandenburg then take readers through the controversy that accompanied the reintroduction program and the methods used by biologists and wildlife managers to accustom the wolves, brought from Canada, to their new environment. "The number-one goal of the Yellowstone Wolf Project is to remove the gray wolf from the endangered species list," and while the book is in full agreement with this intent, the approach is bracingly journalistic, not sentimental. The large color photos are well placed on the spacious pages, and the captions amplify as much as label. A list of adult and juvenile sources, a directory of websites, and an index are included.
Horn Book

In the Scientists in the Field series, a title that documents those who have championed the much-maligned wolf, and the science used to dispute claims of ranchers and farmers that wolves threaten cattle and sheep. Wolves, villainized in folklore and literature, were nearly eradicated from North America by early settlers who feared their cattle would be eaten and their children menaced. Farmers shot them, ranchers poisoned them, and bounty hunters killed mothers and cubs in their dens by the thousands. Swinburne chronicles how, in the 1930s, conservationists and ecologists began to study the food chain, and began to see the gray wolf's necessary and important role in the balance of nature. So ingrained is the hatred of wolves that even with the efforts of dedicated scientists, it has taken decades to return the gray wolf to small areas of Yellowstone National Park and to begin efforts to return them to New York state. Swinburne (Guess Whose Shadow?, p. 230, etc.) quotes men and women of the past and present involved in these efforts; some balance is provided by including the views of a rancher, but the author clearly favors the reintroduction of the wolf. Brandenburg's striking full-color photographs of wolves in the wild and in captivity turn an already informative work into a glossy tribute to a majestic animal.
Kirkus Reviews