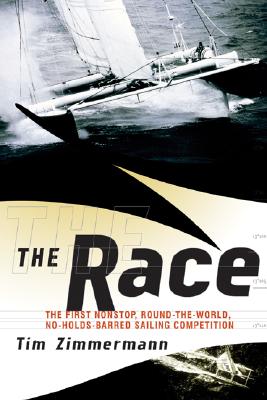 The Race: The First Nonstop, Round-the-World, No-Holds-Barred Sailing Competition (Hardcover)
The First Nonstop, Round-the-World, No-Holds-Barred Sailing Competition
Houghton Mifflin Harcourt, 9780618117482, 336pp.
Publication Date: June 1, 2002
* Individual store prices may vary.
or
Not Currently Available for Direct Purchase
Description
Why saw the handle off your toothbrush? Why tackle the world's stormiest waters in a fragile craft that has never weathered such seas before?
The answer to both these questions is the same: to sail faster than anyone ever has before. In engrossing, suspenseful detail, THE RACE relates how and why participants in the first running of The Race risked millions of dollars and their lives to dash around the world in record time.
Other contests have pushed people and boats past their limits, but no race has ever left so little margin for error. For this very reason, The Race attracted the world's best sailors, among them a Chicago multimillionaire who has set more than twenty records in competitions ranging from ballooning to flying to sailing, a young Briton best known for risking his life to fish a competitor out of the Southern Ocean during a solo round-the-world race, and a hard-nosed New Zealander with virtually no experience skippering multihulls -- the huge, fast, notoriously unstable boats that ran The Race.
Zimmermann also chronicles the tumultuous history of extreme sailing, in craft from nineteenth-century clipper ships to today's dangerous, high-tech marvels with masts fifteen stories tall, which are capable of making up to fifty miles per hour. He spotlights the protean personalities that have driven the sport: Joshua Slocum, who completed the first solo voyage around the world, aided by hallucinations of an old salt beside him at the helm; "Blondie" Hasler, an iconoclastic World War II hero who outraged the risk-averse sailing establishment by organizing the first single-handed transatlantic race; and Francis Chichester, the sailor who won it, despite weighing his small craft down with such luxuries as bottles of claret and a smoking jacket.
Tim Zimmermann, an experienced blue-water sailor, graces this high-tension saga with rich atmosphere, historical depth, and singular emotional intensity.
Praise For The Race: The First Nonstop, Round-the-World, No-Holds-Barred Sailing Competition…
"Zimmermann has turned a daring race of unthinkably fast, high-tech sailing machines into an electrifying page-turner." --Bruce Knecht, author of THE PROVING GROUND

"The Race was a wild ride, and The Race is a fine read." -- Herb McCormick, sailing correspondent for the New York Times, editor of Cruising World Magazine

"The Race is probably the finest account of the history of the circumnavigator's quest yet written." -- Lincoln P. Paine, author of Ships of the World

"A sophisticated chronicle that keeps the drama thrumming along nicely....told with just the kind of finesse the contest deserves." Kirkus Reviews

"Zimmermann keeps the action continuous and tense...An exciting and fascinating story." --Derek Lundy, author of GODFORSAKEN SEA.
Advertisement