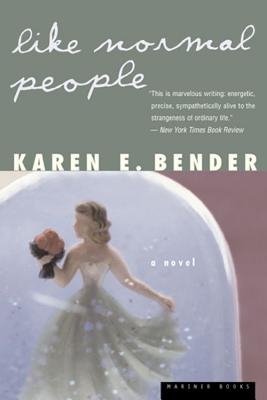 Like Normal People
Paperback

* Individual store prices may vary.
Description
A Los Angeles Times bestseller and one of the Washington Post's best books of the year, LIKE NORMAL PEOPLE charts the lives of "three richly textured characters whose irreducible idiosyncrasies, griefs, longings, and loves will surely expand our sense of what it means to be like normal people" (Chicago Tribune). The story of this family revolves around an off-kilter center: Lena, who is forty-eight years old but mentally locked in childhood. Following Lena's escape from her residential home with her troubled twelve-year-old niece and her widowed mother's search for them, Karen Bender moves deftly between past and present, through three entire lifetimes in a single day, as each character searches for love and acceptance in a world where normalcy is elusive. "Poignantly and brilliantly portrayed" (TimeOut New York), LIKE NORMAL PEOPLE is a hilarious, heartbreaking, unforgettable family drama that resonates long after the last page is turned.
Praise For Like Normal People…
For a debut novel, there is much to praise: the characters who breathe life into the pages, warm settings, the nostalgia of growing up.
Boston Globe

LIKE NORMAL PEOPLE is an uplifting and bittersweet testament to uncompromising love.--The New York Post

…this first novel is rendered in delicate yet indelible prose.--Portland Oregonian

"What an amazing novel; the complexities, imperfections and triumphs of Karen Bender's extraordinary characters will keep you rapt from start to finish. You'll love this book." -- Meg Wolitzer, author of SURRENDER, DOROTHY and FRIENDS FOR LIFE.

"Like Normal People is funny and heartbreaking on every page, so smart, so beautiful, so real...it's a rare book that's this brave, and this moving."--Elizabeth McCracken, author of THE GIANT'S HOUSE and HERE'S YOUR HAT WHAT'S YOUR HURRY

"Karen Bender is already a writer of great skill and sensitivity. The quality of this book, its true sense of humanity, reminded me of Anne Tyler, Barbara Kingsolver, the best of modern authors." --Joanne Woodward

Bender's is the prose of an accomplished writer with a keen eye… The Chicago Tribune

…thanks to the marvelously feisty and funny Ella and Lena, it's a bantamweight worth picking up this spring.
The Wall Street Journal

It is a remarkably complex work that attempts to explore the lives of three different people in one day.
The Baltimore Sun

"To all of this, Bender brings a calm and intelligent eye. If this were a movie, there would no doubt be a lesson to learn about the beauty of innocence, with Lena's pure soul pitted against the wider world's meanness and uniformity. Bender goes for something more complex and far more rewarding: She shows how love and sadness can co- exist in a world where normalcy is elusive, and where strength emerges in surprising ways." The San Francisco Chronicle

…Bender has crafted a luminous, meditative novel on the boundaries between childhood, adulthood, and old age.
Entertainment Weekly

Bender deserves the recognition for her keen ability to depict the interplay among family members, particularly between Ella and Lena.
Cleveland Plain Dealer

"Some first novelists arrive on the scene already so proficient it's hard to believe that we are reading their debut effort. This is true of Bender, whose remarkable narrative of three generations of women has the wisdom of mature insight and the grace of empathy and understanding...Bender's subtle humor, her understanding of a parent's need to offer protective love and her tolerant view of human nature infuse the story with universality. In the end, this heartwarming novel dealing with societal misfits, family relationships and loss is all about flawed human beings, 'normal' and not." Publishers Weekly, Starred —
Ecco, 9780618126927, 288pp.
Publication Date: April 15, 2001
About the Author
Karen E. Bender's novel excerpts have been published in THE NEW YORKER, GRANTA, and STORY magazines. The chapter "Eternal Love" was chosen by Annie Proulx to appear in THE BEST AMERICAN SHORT STORIES 1997, and was read by Joanne Woodward to a sold-out crowd at Symphony Space in New York; the recording of that reading aired on NPR's SELECTED SHORTSS. Bender also received a prestigious Rona Jaffe Foundation Writers' Award based on a draft of this novel. Bender's fiction has appeared in the IOWA REVIEW and the KENYON REVIEW and has been reprinted in PUSHCART PRIZE XVIII and other anthologies. A graduate of the Iowa Writers' Workshop, she lives in New York with her husband, the writer Robert Anthony Siegel, and their son.