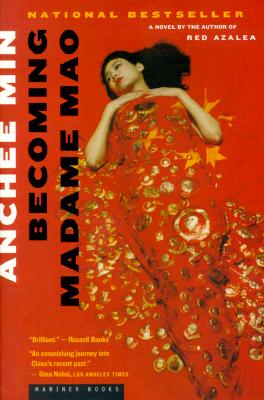 Becoming Madame Mao (Paperback)
Mariner Books, 9780618127009, 352pp.
Publication Date: April 15, 2001
Other Editions of This Title:
Paperback (1/10/2001)
MP3 CD (6/28/2016)
* Individual store prices may vary.
Description
In a sweeping, erotically charged story that moves gracefully from the intimately personal to the great stage of world history, Anchee Min renders a powerful tale of passion, betrayal, and survival and creates a finely nuanced and always ambiguous portrait of one of the most fascinating, and vilified, women of the twentieth century.
Madame Mao is almost universally known as the "white-boned demon" -- ambitious, vindictive, and cruel -- whose bid to succeed her husband led to the death of millions. But Min's story begins with a young girl named Yunhe, the unwanted daughter of a concubine who ignored her mother's pleas and refused to have her feet bound. It was the first act of rebellion for this headstrong, beautiful, and charismatic girl. She later fled the miseries of her family life, first to a provincial opera troupe, then to Shanghai and fame as an actress, and finally to the arid, mountainous regions of Yenan, where she fell in love with and married Mao Zedong. The great revolutionary leader proved to be an inattentive husband with a voracious appetite for infidelity, but the couple stayed together through the Communist victory, the disastrous Great Leap Forward, and the chaos of the Cultural Revolution.
Min uses the facts of history and her lush, penetrating psychological imagination to take us beyond the myth of the person who so greatly influenced an entire generation of Chinese. The result is a complex portrait of a woman who railed against the confines of her culture, whose deep-seated insecurities propelled her to reinvent herself constantly, and whose ambition was matched only by her ferocious, never-to-be-fulfilled need to be loved. A daring narrative with all the compressed drama and high lyrical poetry of great opera, BECOMING MADAME MAO is the most ambitious and provocative work of Anchee Min's career.
About the Author
Anchee Min was born in Shanghai in 1957. At seventeen she was sent to a labor collective, where a talent scout for Madame Mao's Shanghai Film Studio recruited her to work as a movie actress. She came to the United States in 1984 with the help of actress Joan Chen. Her memoir, Red Azalea, was named one of the New York Times Notable Books of 1994 and was an international bestseller, with rights sold in twenty countries. Her novels Becoming Madame Mao and Empress Orchid were published to critical acclaim and were national bestsellers. Her two other novels, Katherine and Wild Ginger, were published to wonderful reviews and impressive foreign sales.
Praise For Becoming Madame Mao…
"This is an adacious but balanced narrative of a mean-spirited woman's life caught in desire, ambition, and politcal intrigues. With vivid drama and keen psychological acumen, Anchee Min has rendered the White-Bone Demon human -- Madame Mao is finally given her own voice. A remarkable accomplishment." -- Ha Jin (author of WAITING, winner of the 1999 National Book Award for Fiction)

"Her characterization of Madame Mao is so strong that one may tend to forget that this work is a novel and not a true biography." Library Journal Starred