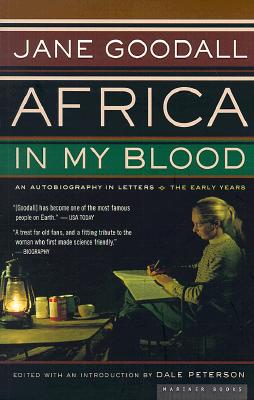 Africa In My Blood
An Autobiography in Letters: The Early Years
Paperback

* Individual store prices may vary.
Description
AFRICA IN MY BLOOD is an extraordinary self-portrait, in letters and commentary, of Jane Goodall's early years, from childhood to the landmark publication of IN THE SHADOW OF MAN. It reveals this remarkable woman more vividly and clearly than anything that has been published before, by her or about her. We see Goodall grow from a schoolgirl into the promising young candidate whom the legendary Louis Leakey sent to a wildlife preserve on the shores of Lake Tanganyika to undertake a revolutionary study of chimpanzees. At Gombe we see her immerse herself in the lives of wild animals as no one had done before. AFRICA IN MY BLOOD is a dramatic, moving, funny, and important book that tells the story of how an English girl who loved animals became one of the greatest scientists of the twentieth century.
Praise For Africa In My Blood: An Autobiography in Letters: The Early Years…
"[Goodall]is a natural writer and riveting storyteller. Africa in My Blood confirms these additional talents." --Fort Worth Star-Telegram

"Often letter anthologies are the purview of a subject's near-evangelical followers, but Africa in My Blood is an engrossing primate primer, a treat for old fans, and a fitting tribute to the woman who first made science friendly." --Biography Magazine

"An intimate and vivid portrait" --Natural History Magazine

"Jane Goodall is more than just a remarkable scientist. She is, as other writers have noted, a real-life Horatio Alger.... this is a valuable book." The San Francisco Chronicle

"No one, perhaps, has done more for great apes than Goodall, whose decades of work with Kenyan chimpanzees showed the rest of the world how chimps live -- how they use tools, eat, sleep, have sex, raise their young, fight, make peace -- demonstrating that they deserve further study as well as human protection. Here, in a follow up to last year's spiritual autobiography Reason for Hope, are displayed the roots of that work, in a thick, fun, enlightening, somewhat diffuse compilation of letters that Goodall wrote to relatives, friends, and colleagues over the first 32 years of her life, now amplified by Peterson's introduction and annotations. The earliest letters show the preteen Valerie Jane Morris-Goodall at school in England, chattily inviting her best friend to see her collection of "quite a lot of caterpillars." Later batches describe life in "Chimpland," where Goodall and her co-workers have set up their ongoing project. We see a mother chimp and her neighbors react to a baby; we also see Goodall, then-husband Hugo van Lawick and a cast of dozens handle the practical problems of running a jungle encampment, from parasites to postage and publicity. Goodall describes her work with her mentor, paleontologist Louis Leakey; shows her continued affection for her family; keeps up with U.S. and European animal-behavior researchers such as Konrad Lorenz; and narrates "the proudest [day] of my whole life to date": the chimpanzee "David G -- yes -- he has TAKEN BANANAS FROM MY HAND." This volume covers only the "early years" (1934-1966); readers who care about animal behavior -- or who enjoy the collected letters of a fascinating, friendly, and dedicated woman -- will hope for a sequel." --Publishers Weekly, March 6, 2000

Publishers Weekly

"A sumptuous delight! A story of greatness bred from innocence and wonder of one of the most remarkable lives of our time. As Africa grips Jane Goodall, her story grips the reader. AFRICA IN MY BLOOD allow us to witness, in a very intimate way, how the early seeds of understanding and compassion for chimpanzees changed the very understanding of what it means to be human. Jane's personal letters make you feel like you are a member of the family. This absolutely MUST become the first of a trilogy! The "heart" and the "soul" must join the "blood". I can hardly wait --- it wasn't fair to leave us in 1966 when we know there is so much more." -- Roger Fouts (Chimpanzee and Human Communication Institute, Central Washington University) —
Mariner Books, 9780618127351, 416pp.
Publication Date: April 22, 2001
About the Author
JANE GOODALL continues to study and write about primate behavior. She founded the Gombe Stream Research Center in Gombe National Park, Tanzania, and the Jane Goodall Institute for Wild Life Research, Education, and Conservation to provide ongoing support for field research on wild chimpanzees. She is the author of many books, including two autobiographies in letters, Africa in My Blood and Beyond Innocence. Today Dr. Goodall spends much of her time lecturing, sharing her message of hope for the future, and encouraging young people to make a difference in their world.

Dale Peterson is the coauthor with Jane Goodall of Visions of Caliban (a New York Times Notable Book and a Library Journal Best Book) and the editor of her two books of letters, Africa in My Blood and Beyond Innocence. His other books include The Deluge and the Ark, Chimpanzee Travels, Storyville USA, Eating Apes, and (with Richard Wrangham) Demonic Males. They have been distinguished as an Economist Best Book, a Discover Top Science Book, a Bloomsbury Review Editor's Favorite, a Village Voice Best Book, and a finalist for the PEN New England Award and the Sir Peter Kent Conservation Book Prize in England. He resides in Massachusetts.
or
Not Currently Available for Direct Purchase