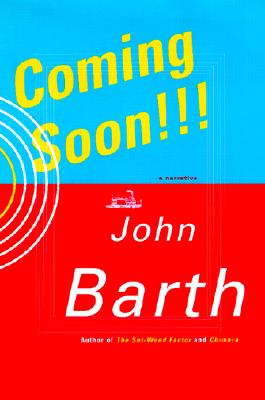 Coming Soon!!! (Hardcover)
A Narrative
Houghton Mifflin, 9780618131655, 416pp.
Publication Date: November 20, 2001
Other Editions of This Title:
Paperback (10/22/2002)
* Individual store prices may vary.
Description
In a novelistic romp that is by turns hilarious and brilliant, John Barth, the dean of postmodern fiction, spoofs his own place in the pantheon of contemporary fiction and the generation of writers who have followed in the wake of his literary trailblazing.
Barth's first novel in ten years, COMING SOON!!! is the tale of two writers: an older, retiring novelist setting out to write his last work and a young, aspiring writer of hypertext intent on toppling his master. Inspired by a gently sinking showboat replica called The Original Floating Opera II, grounded on a shoal somewhere in Chesapeake Bay as a hurricane (and Y2K) approaches, they race each other to write a novel about a floating opera -- a reprise of the fictional mentor's first novel, of Barth's own first novel, of Edna Ferber's literary monument Show Boat and its spawn of musicals and films. In the heat of their rivalry, the writers navigate, and sometimes stumble over, the cultural fault lines between print and electronic fiction, mentor and mentee, postmodernism and modernism.
At a time of intense renewed interest in postmodernism, COMING SOON!!! spotlights its legacy with the wit and irreverence that mark Barth as one of our most highly regarded writers. It is an extraordinary addition to, and a playful riff on, Barth's oeuvre, a series of books that have shaped contemporary literature.
or
Not Currently Available for Direct Purchase