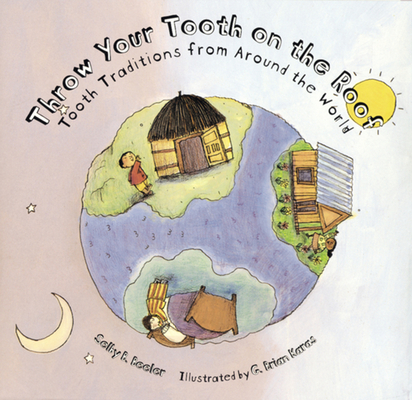 Throw Your Tooth on the Roof (Paperback)
Tooth Traditions from Around the World
HMH Books for Young Readers, 9780618152384, 32pp.
Publication Date: September 24, 2001
Other Editions of This Title:
Hardcover (9/28/1998)
Hardcover, Japanese (5/1/1999)
* Individual store prices may vary.
Description
What do you do when you lose a tooth? Do you put it under your pillow and wait for the tooth fairy? Not if you live in Botswana! In Botswana, children throw their teeth onto the roof. In Afghanistan they drop their teeth down mouse holes, and in Egypt they fling their teeth at the sun! Travel around the world and discover the surprising things children do when they lose a tooth. Selby B. Beeler spent years collecting traditions from every corner of the globe for this whimsical book, and illustrator G. Brian Karas adds to the fun, filling every page with humorous detail. He perfectly captures the excitement and pride that children experience when a tooth falls out.

This title has been selected as a Common Core Text Exemplar (Grades 2-3, Informational Texts)
About the Author
Selby B. Beeler first became interested in lost-tooth traditions in other countries when a friend from Brazil asked, "What's a Tooth Fairy?" Curious, Selby has been canvassing strangers ever since. This is her first book.
G. Brian Karas has illustrated more than thirty books for children, including Truman's Aunt Farm, by Jama Kim Rattigan, and Mr. Carey's Garden, by Jane Cutler.
Praise For Throw Your Tooth on the Roof: Tooth Traditions from Around the World…
"If children think a visit from the Tooth Fairy is the only way to trade in baby teeth, they're in for a surprise. Beeler's funny and intriguing sampling of lost-tooth traditions from around the world shows that teeth are every bit as likely to end up down a mouse hole, in the stomach of a dog, or on the roof of a house, as they are under a pillow. . . . Lots and lots of fun." Booklist, ALA

"The demands of the Tooth Fairy are almost as strenuous as those of Santa, but she has some help, because, as Beeler tells it, the customs about teeth vary around the world. . . . A charming debut." Kirkus Reviews

"This book describes a variety of rituals for the numerous occasions on which a child loses baby teeth. About a half-dozen countries in a broad geographic region are covered on each two-page spread. For each nation, an appealing youngster dressed in native attire provides one- or two-sentence summaries of local tooth customs. . . . A world map helps with the geography and a couple of appended dental diagrams give youngsters a simple oral overview. . . . A fun comparative study for the tooth-losing crowd." School Library Journal