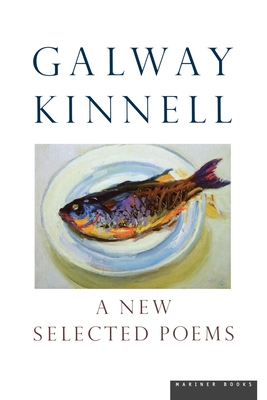 A New Selected Poems
Paperback

* Individual store prices may vary.
Description
That Silent Evening

I will go back to that silent evening when we lay together and talked in silent voices, while outside slow lumps of soft snow fell, hushing as they got near the ground, with a fire in the room, in which centuries of tree went up in continuous ghost-giving-up, without a crackle, into morning light.
Not until what hastens went slower did we sleep.
When we got home we turned and looked back at our tracks twining out of the woods, where the branches we brushed against let fall puffs of sparkling snow, quickly, in silence, like stolen kisses, and where the scritch scritch scritch among the trees, which is the sound that dies inside the sparks from the wedge when the sledge hits it off center telling everything inside it is fire, jumped to a black branch, puffed up but without arms and so to our eyes lonesome, and yet also--how can we know this?--happy!
in shape of chickadee. Lying still in snow, not iron-willed, like railroad tracks, willing not to meet until heaven, but here and there treading slubby kissing stops, our tracks wobble across the snow their long scratch.
So many things that happen here are really little more, if even that, than a scratch, too. Words, in our mouths, are almost ready, already, to bandage the one whom the scritch scritch scritch, meaning if how when we might lose each other, scratches scratches scratches from this moment to that. Then I will go back to that silent evening, when the past just managed to overlap the future, if only by a trace, and the light doubles and casts through the dark a sparkling that heavens the earth.
Praise For A New Selected Poems…
"His most shimmering work . . . 'A New Selected Poems' . . . showcaswes his highest achievements.""



The San Diego Union-Tribune

"Kinnell's New Selected handsomely displays thirty years of consistently astounding and inventive contributions to poetry." Book Magazine

" . . . one of the few truly indispensable volumes of poetry to appear so far this year . . ." The St. Paul Pioneer Press

"Kinnell is a poet of the rarest ability, the kind who comes once or twice in a generation, who can flesh out music, raise the spirits and break the heart." Boston Globe

"Elemental as ever, these poems forcefully evince Kinnell's longstanding themes of human extremeity--birth, death, sex--but frequently veer into gender-based pathos and heavy-handed lust." Publishers Weekly —
Ecco, 9780618154456, 192pp.
Publication Date: September 13, 2001
About the Author
GALWAY KINNELL (1927–2014) was a MacArthur Fellow and state poet of Vermont. In 1982 his Selected Poems won the Pulitzer Prize and the National Book Award. For many years he was the Erich Maria Remarque Professor of Creative Writing at New York University, as well as a chancellor of the Academy of American Poets. For thirty-five years—from The Book of Nightmares to Mortal Acts and, most recently, Strong Is Your Hold—Galway Kinnell enriched American poetry, not only with his poems but also with his teaching and powerful public readings.