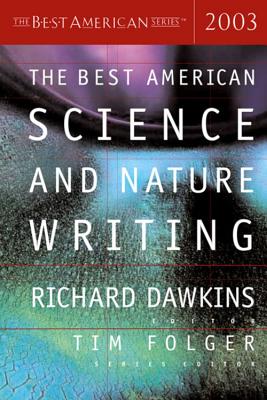 The Best American Science and Nature Writing 2003 (The Best American Series ®)
Paperback

* Individual store prices may vary.
Other Editions of This Title:
Paperback (10/8/2008)
Paperback (10/4/2011)
Paperback (10/10/2001)
Paperback (10/14/2004)
Paperback (10/11/2006)
Paperback (10/5/2005)
Paperback (10/8/2009)
Paperback (10/15/2002)
Hardcover (10/1/2001)
Hardcover (10/1/2007)
Hardcover (10/8/2008)
Hardcover (10/1/2004)
Hardcover (10/1/2005)
Hardcover (10/26/2000)
Description
Since its inception in 1915, the Best American series has become the premier annual showcase for the country's finest short fiction and nonfiction. For each volume, a series editor reads pieces from hundred of periodicals, then selects between fifty and a hundred outstanding works. That selection is pared down to the twenty or so very best pieces by a guest editor who is widely recognized as a leading writer in his or her field. This unique system has helped make the Best American series the most respected -- and most popular -- of its kind.
The Best American Science and Nature Writing 2003, edited by Richard Dawkins, is another "eloquent, accessible, and even illuminating" collection (Publishers Weekly). Here are the best and brightest writers on science and nature, writing on such wide-ranging subjects as astronomy's new stars, archaeology, the Bible, "terminal" ice, and memory faults.

Natalie Angier Timothy Ferris Ian Frazier Elizabeth F. Loftus Steven Pinker Oliver Sacks Steven Weinberg Edward O. Wilson
Mariner Books, 9780618178926, 352pp.
Publication Date: October 10, 2003
About the Author
RICHARD DAWKINS taught zoology at the University of California at Berkeley and at Oxford University and is now the Charles Simonyi Professor of the Public Understanding of Science at Oxford, a position he has held since 1995. Among his previous books are The Ancestor's Tale, The Selfish Gene, The Blind Watchmaker, Climbing Mount Improbable, Unweaving the Rainbow, and A Devil's Chaplain. Dawkins lives in Oxford with his wife, the actress and artist Lalla Ward.
TIM FOLGER is a contributing editor at Discover and writes about science for several magazines. He lives in New Mexico.