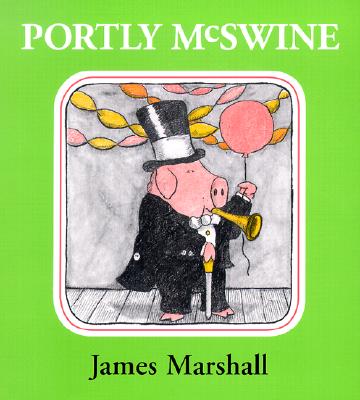 Portly McSwine (Hardcover)
HMH Books for Young Readers, 9780618183814, 40pp.
Publication Date: August 26, 2002
* Individual store prices may vary.
Description
Portly McSwine, eternal pessimist and constant worrywart, is planning a party to celebrate National Snout Day. But Portly is concerned. What if his party is not a success? What if his guests don't have fun? Portly imagines disaster upon disaster. "Stop worrying," says a friend. "Quit fussing," counsels another. But you can't keep a good worrywart down, and Portly is true to his nature to the very last minute . . .
About the Author
James Marshall (1942–1992) created dozens of exuberant and captivating books for children, including The Stupids, Miss Nelson Is Missing!, and the ever-popular George and Martha books. Before creating his canon of classic, hilarious children's books, James Marshall played the viola, studied French, and received a master's degree from Trinity College. He also doodled. It was the doodles, and the unforgettable characters that emerged from them, that led him to his life's work as one of the finest creators of children's books of the twentieth century. In 2007, James Marshall was posthumously awarded the Laura Ingalls Wilder medal for his lasting contribution to literature for children.
or
Not Currently Available for Direct Purchase