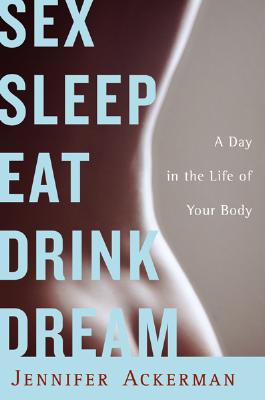 Sex Sleep Eat Drink Dream (Hardcover)
A Day in the Life of Your Body
Houghton Mifflin Harcourt, 9780618187584, 272pp.
Publication Date: October 2, 2007
Other Editions of This Title:
Paperback (10/2/2008)
* Individual store prices may vary.
Description
The acclaimed science writer Jennifer Ackerman lends her keen eye and lively voice to this marvelous exploration of the human body. Taking us through a typical day, from the arousal of the senses in the morning to the reverie of sleep and dreams, Ackerman reveals the human form as we've never seen it: busy, cunning, and miraculous.
Advances in genetics and medical imaging have allowed us to peer more deeply inside ourselves than ever before, and one of the most amazing recent discoveries is that we are intensely rhythmic creatures. The human body is like a clock — actually an entire shop of clocks — measuring out the seconds, minutes, days, and seasons of life. Weaving pieces of her own life with that of Everyman, Ackerman shows the importance of synchronizing our actions with our biological rhythms — and how defying them can cause us real harm.
We learn the best time of day to drink a cocktail, take a nap, run a race, give a presentation, and take medication, along with a host of other curious facts, such as why you succumb to a cold and your spouse doesn't, even though you've both been exposed to the same sick child.
Did you know that you can tell time in your sleep? Or that up to half of the calories you consume can be burned off simply by fidgeting? That women have more nightmares than men? That tuna, sardines, and walnuts may ease depression?
At once entertaining and deeply practical, this fascinating book will make you think of your body in an entirely new way.
About the Author
Jennifer Ackerman is the author of Notes from the Shore and Chance in the House of Fate. The recipient of a grant from the Alfred P. Sloan Foundation and literature fellowships from the National Endowment for the Arts and the Bunting Institute of Radcliffe College, she writes for National Geographic, the New York Times, and other publications.
Praise For Sex Sleep Eat Drink Dream: A Day in the Life of Your Body…
"It's rare to find a book that delivers so much knowledge in prose that's such an enormous pleasure to read." --Miriam E. Nelson, Tufts University, and author of Strong Women Stay Young

"Jennifer Ackerman writes with the precision of a scientist and the elegance of a poet . . . invigorating, informed, insightful, and wise." --Steve Olson, author of Mapping Human History and Count Down

"A fascinating look at what modern science tells us about who we are." --Elizabeth Kolbert, author of Field Notes from a Catastrophe

"A delightful picaresque . . . You'll never think about your body—and what you do to it—in the same way again." --Stephen S. Hall, author of Size Matters and Merchants of Immortality

"Ackerman offers a pleasant day's diversion." Publishers Weekly

"An insightful text celebrating just how clever is the machine we call the human body." Kirkus Reviews

Ackerman has hit her stride [with] a virtual full-body scan conducted over the course of 24 hours." Booklist, ALA

"A readable and remarkably comprehensive tour of all that is new and intriguing in the study of normal human physiology." --Abigail Zuger, M.D.
The New York Times

"Ackerman's illuminating and hospitable book helps ensure that the inner life of our bodies will receive its fair share of wonderment." --Kyla Dunn The New York Times Book Review
or
Not Currently Available for Direct Purchase