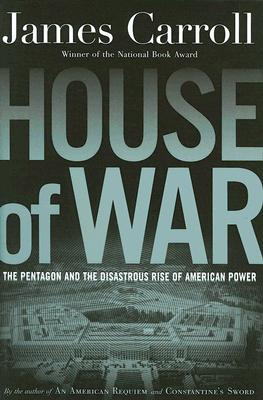 House of War
Hardcover

* Individual store prices may vary.
Other Editions of This Title:
Digital Audiobook (5/29/2006)
Digital Audiobook (5/1/2006)
Paperback (6/4/2007)
Description
From the National Book Award–winning author of An American Requiem and Constantine's Sword comes a sweeping yet intimate look at the Pentagon and its vast — often hidden — impact on America.

This landmark, myth-shattering work chronicles the most powerful institution in America, the people who created it, and the pathologies it has spawned. James Carroll proves a controversial thesis: the Pentagon has, since its founding, operated beyond the control of any force in government or society. It is the biggest, loosest cannon in American history, and no institution has changed this country more. To argue his case, he marshals a trove of often chilling evidence. He recounts how "the Building" and its denizens achieved what Eisenhower called "a disastrous rise of misplaced power" — from the unprecedented aerial bombing of Germany and Japan during World War II to the "shock and awe" of Iraq. He charts the colossal U.S. nuclear buildup, which far outpaced that of the USSR, and has outlived it. He reveals how consistently the Building has found new enemies just as old threats — and funding — evaporate. He demonstrates how Pentagon policy brought about U.S. indifference to an epidemic of genocide during the 1990s. And he shows how the forces that attacked the Pentagon on 9/11 were set in motion exactly sixty years earlier, on September 11, 1941, when ground was broken for the house of war.

Carroll draws on rich personal experience (his father was a top Pentagon official for more than twenty years) as well as exhaustive research and dozens of extensive interviews with Washington insiders. The result is a grand yet intimate work of history, unashamedly polemical and personal but unerringly factual. With a breadth and focus that no other book could muster, it explains what America has become over the past sixty years.
Praise For House of War…
"A prodigious historical synthesis, with pressing importance for our times, and also a deeply engaging story." --Tracy Kidder, author of My Detachment: A Memoir

House of War is a masterful achievement...[Carroll's] prose is elegant, his viewpoint bold." --Howard Zinn, author of The People's History of the United States

"[Carroll has] the historical depth, elegance of style, and moral complexity to have taken the full measure of [the Pentagon]." --Bill McKibben, author of The End of Nature

"One cannot understand the impact of the Pentagon on US foreign policy...without reading James Carroll's House of War." --Lawrence Korb, former Undersecretary of Defence under Ronald Reagan

[An] unequivocally mesmerizing account. . . . Certain to be one of the most talked-about nonfiction books of the season."

Booklist, ALA

"[James Carroll] brings to shocking life the truth of Randolph Bourne's dictum: 'War is the health of the state.'" --Garry Wills, author of Nixon Agonistes and Henry Adams and the Making of America

"Altogether excellent, and essential for understanding the birth of America's empire." Kirkus Reviews, Starred

"An aggressively compelling history." Publishers Weekly, Starred
Houghton Mifflin Harcourt, 9780618187805, 672pp.
Publication Date: May 1, 2006
or
Not Currently Available for Direct Purchase