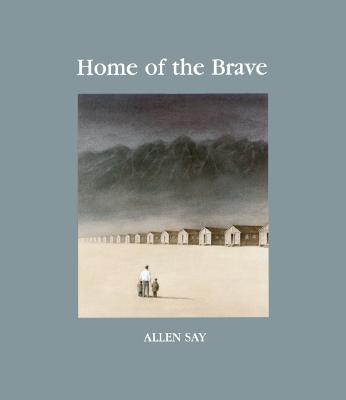 Home of the Brave (Library Binding)
Houghton Mifflin Books for Children, 9780618212231, 32pp.
Publication Date: April 1, 2002
* Individual store prices may vary.
or
Not Currently Available for Direct Purchase
Description
In dreamlike sequences, a man symbolically confronts the trauma of his family's incarceration in the Japanese internment camps during World War II. This infamous event is made emotionally clear through his meeting a group of children all with strange name tags pinned to their coats. The man feels the helplessness of the children. Finally, desperately he releases the name tags like birds into the air to find their way home with the hope for a time when Americans will be seen as one people—not judged, mistrusted, or segregated because of their individual heritage.
Sixty years after thousands of Japanese Americans were unjustly imprisoned, the cogent prose and haunting paintings of renowned author and illustrator Allen Say remind readers of a dark chapter in America's history.
Praise For Home of the Brave…
"Say here enters the realm of dream--or rather, nightmare. Say's use of light and dark has a haunting effect...the images create an internal logic of their own, as emotionally convincing as any waking experience." Publishers Weekly, Starred

"Say's use of darkness in the portrayal of childhood innocence is a poignant interpretation of what children, whatever their culture, must feel when so tiny and scared and far from where they long to be." The Los Angeles Times

"What Say does so successfully here is to show how displaced children feel; how, through some unnamed strength, they manage to survive and find their way home....The story's real focus is not so much the re-examination of America's historical past as the recollection of its emotional past -- a past we become a part of through Allen Say's intense dreamscape." The New York Times Book Review
Advertisement