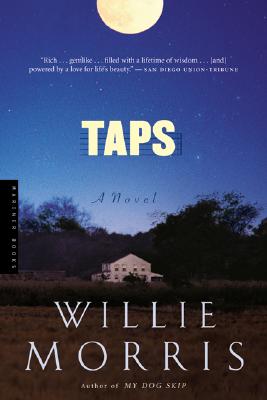 Taps (Paperback)
A Novel
Mariner Books, 9780618219025, 352pp.
Publication Date: April 8, 2002
* Individual store prices may vary.
Description
The final work from one of America's most beloved authors and an instant classic, TAPS takes readers on one last fictional journey to Willie Morris's South and spins a tender, powerful, very American story about the vanishing beauty of a charmed way of life and the fleeting boyhood of a young man coming of age in a time of war. In Fisk's Landing, Mississippi, at the dawn of the Korean War, sixteen-year-old Swayze Barksdale is suddenly called to an unexpected duty - playing "Taps" at the gravesides of the town's young casualties sent home from the front. Gradually, Swayze begins to pace his life around these all too frequent funerals, where his horn sounds the tragic note of the times. At turns funny, at turns poignant, TAPS abounds with colorful characters and yet "sings and sighs . . . with a kind of minor key wistfulness" (Arkansas Democrat-Gazette) as Swayze learns what it means to be a patriot, a son, a lover, a friend, a man.
About the Author
Willie Morris is the author of North Toward Home, New York Days, My Dog Skip, My Cat Spit McGee, and numerous other works of fiction and nonfiction. As the imaginative and creative editor of Harper's magazine in the 1960s, he published such writers as William Styron, Gay Talese, David Halberstam, and Norman Mailer, and he was a major influence in changing our postwar literary and journalistic history. He died in August 1999 at the age of sixty-four.
Praise For Taps: A Novel…
"Poignant, funny, heartwarming and suspenseful...a deeply affecting swan song by one of America's most beloved writers." Publishers Weekly, Starred

"Willie Morris's great novel, his summation...Taps is a triumph throughout with some of his finest prose. From the very first lines, his hard-earned craftsmanship is evident...a work of art, Taps was written to last." The Los Angeles Times

"Pure quadruple-distilled Willie Morris...[and] quite magical... Morris paints a full and vivid and moving picture of what it was like to be sixteen in the Delta in the 1950s." Memphis Commercial Appeal

"Engaging...endearing..charming and old fashioned...Taps is a good reminder of what we have lost with Willie Morris's passing." The Washington Post