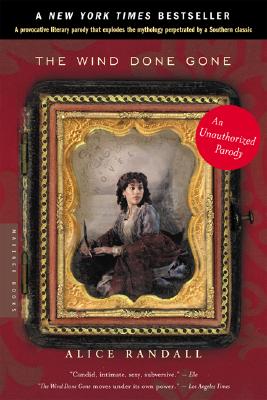 The Wind Done Gone (Paperback)
A Novel
Mariner Books, 9780618219063, 224pp.
Publication Date: April 8, 2002
Other Editions of This Title:
Hardcover (6/1/2001)
Analog Audio Cassette, Abridged (8/28/2001)
* Individual store prices may vary.
Description
In this daring and provocative literary parody which has captured the interest and imagination of a nation, Alice Randall explodes the world created in GONE WITH THE WIND, a work that more than any other has defined our image of the antebellum South. Taking sharp aim at the romanticized, whitewashed mythology perpetrated by this southern classic, Randall has ingeniously conceived a multilayered, emotionally complex tale of her own - that of Cynara, the mulatto half-sister, who, beautiful and brown and born into slavery, manages to break away from the damaging world of the Old South to emerge into full life as a daughter, a lover, a mother, a victor. THE WIND DONE GONE is a passionate love story, a wrenching portrait of a tangled mother-daughter relationship, and a book that "celebrates a people's emancipation not only from bondage but also from history and myth, custom and stereotype" (San Antonio Express-News).
About the Author
Alice Randall was born in Detroit and graduated from Harvard in 1981. After a start as a journalist in Washington, D.C., she moved to Nashville to become a country songwriter. The only African-American woman ever to write a number-one country song, she has had more than twenty songs recorded. She is also a screenwriter and has worked on adaptations of Their Eyes Were Watching God, Parting the Waters, and Brer Rabbit. Alice Randall is the author of The Wind Done Gone. She was awarded the Free Spirit Award in 2001 and the Literature Award of Excellence by the Memphis Black Writers Conference in 2002, and she was a finalist for the NAACP Image Award in 2002. She lives in Nashville, Tennessee.