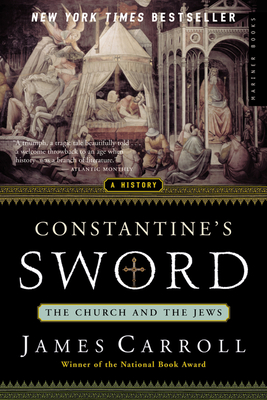 Constantine's Sword
The Church and the Jews -- A History
Paperback

* Individual store prices may vary.
Other Editions of This Title:
Hardcover (1/1/2001)
Description
In a bold and moving book that is sure to spark heated debate, the novelist and cultural critic James Carroll maps the profoundly troubling two-thousand-year course of the Church's battle against Judaism and faces the crisis of faith it has provoked in his own life as a Catholic. More than a chronicle of religion, this dark history is the central tragedy of Western civilization, its fault lines reaching deep into our culture.
The Church's failure to protest the Holocaust — the infamous "silence" of Pius XII — is only part of the story: the death camps, Carroll shows, are the culmination of a long, entrenched tradition of anti-Judaism. From Gospel accounts of the death of Jesus on the cross, to Constantine's transformation of the cross into a sword, to the rise of blood libels, scapegoating, and modern anti-Semitism, Carroll reconstructs the dramatic story of the Church's conflict not only with Jews but with itself. Yet in tracing the arc of this narrative, he implicitly affirms that it did not necessarily have to be so. There were roads not taken, heroes forgotten; new roads can be taken yet. Demanding that the Church finally face this past in full, Carroll calls for a fundamental rethinking of the deepest questions of Christian faith. Only then can Christians, Jews, and all who carry the burden of this history begin to forge a new future.
Drawing on his well-known talents as a storyteller and memoirist, and weaving historical research through an intensely personal examination of conscience, Carroll has created a work of singular power and urgency. CONSTANTINE'S SWORD is a brave and affecting reckoning with difficult truths that will touch every reader.
Praise For Constantine's Sword: The Church and the Jews -- A History…
"Whatever the solution, in the end, unsderstanding the conflict is half the battle. It's a battle Carroll wins in this historical tome." Boston Magazine

"Carroll, whose love for the catholic church...is not only matched by a lovingly critical eye...but an urgent plea that Rome set another course." Boston Globe

"A triumph, a tragic tale beautifully told. . .a welcome throwback to an age when history was a branch of literature. . ."--Charles R. Morris Atlantic Monthly

"Fascinating, brave and sometimes infuriating." Time Magazine

"This searingly honest book is Augustinian in the way Carroll searches his own soul. . ."--Garry Wills, author of Saint Augustine and Papal Sin

"This book is a history written to change the way people live."--Talk

"A deeply religious book."--Bishop Krister Stendahl, former Dean of Harvard Divinity School

"For two thousand years Jews have been longing for a Christian who would understand their experience."--Susannah Heschel, Eli Black Professor of Jewish Studies, Dartmouth College

"Sweeping. . . This magisterial work will satisfy Jewish and Christian readers alike, challenging both to a renewed conversation." Publishers Weekly, Starred
Mariner Books, 9780618219087, 768pp.
Publication Date: April 1, 2002
About the Author
James Carroll was raised in Washington, D.C., and ordained to the Catholic priesthood in 1969. He served as a chaplain at Boston University from 1969 to 1974, then left the priesthood to become a writer. A distinguished scholar-
in-residence at Suffolk University, he is a columnist for the Boston Globe and a
regular contributor to the Daily Beast.
His critically admired books include Practicing Catholic, the National Book Award–winning An American Requiem, House of War, which won the first PEN/Galbraith Award, and the New York Times bestseller Constantine's Sword, now an acclaimed documentary.