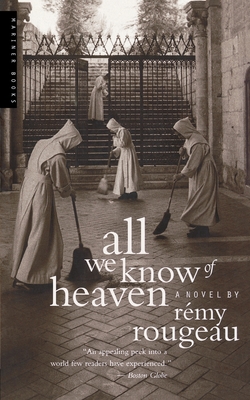 All We Know of Heaven
Paperback

* Individual store prices may vary.
Description
With "careful prose and a tone of humble striving" (New York Times Book Review), this revelatory first novel by a cloistered monk traces a young man's search for wisdom among the inhabitants of a Cistercian monastery. In 1973, Paul Seneschal, a shy nineteen-year-old from rural Manitoba, takes flight from the world behind the wrought iron gates of St. Norbert Abbey. Here forty monks grow their own food, wake at three in the morning to pray, and converse largely through a spare but expressive vocabulary of hand signals. Renamed Brother Antoine, Paul strives for wisdom and holiness, yet life within the cloister can't block out all of humanity's foibles. One monk lapses into pyromania; another, a French Canadian, attacks any English-speaker who gets too close; another resembles "a bald Martha Ray." We soon see that even in this rarefied realm, human folly nestles cheek by jowl with the divine. A wise yet refreshingly humorous account of a life of faith, ALL WE KNOW OF HEAVEN offers an a fascinating glimpse into a quiet world that very few people know about.
Houghton Mifflin, 9780618219223, 240pp.
Publication Date: June 19, 2002