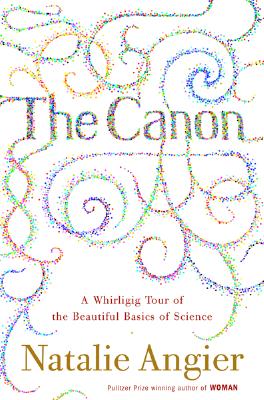 The Canon
A Whirligig Tour of the Beautiful Basics of Science
Hardcover

* Individual store prices may vary.
Other Editions of This Title:
Digital Audiobook (4/30/2007)
Paperback (4/3/2008)
Compact Disc (5/1/2007)
MP3 CD (5/1/2007)
CD-Audio (5/1/2007)
Description
From the Pulitzer Prize winner and best-selling author of Woman, a playful, passionate guide to the science all around us

With the singular intelligence and exuberance that made Woman an international sensation, Natalie Angier takes us on a whirligig tour of the scientific canon. She draws on conversations with hundreds of the world's top scientists and on her own work as a Pulitzer Prize-winning writer for the New York Times to create a thoroughly entertaining guide to scientific literacy. Angier's gifts are on full display in The Canon, an ebullient celebration of science that stands to become a classic.

The Canon is vital reading for anyone who wants to understand the great issues of our time -- from stem cells and bird flu to evolution and global warming. And it's for every parent who has ever panicked when a child asked how the earth was formed or what electricity is. Angier's sparkling prose and memorable metaphors bring the science to life, reigniting our own childhood delight in discovering how the world works. "Of course you should know about science," writes Angier, "for the same reason Dr. Seuss counsels his readers to sing with a Ying or play Ring the Gack: These things are fun and fun is good."

The Canon is a joyride through the major scientific disciplines: physics, chemistry, biology, geology, and astronomy. Along the way, we learn what is actually happening when our ice cream melts or our coffee gets cold, what our liver cells do when we eat a caramel, why the horse is an example of evolution at work, and how we're all really made of stardust. It's Lewis Carroll meets Lewis Thomas -- a book that will enrapture, inspire, and enlighten.
Praise For The Canon: A Whirligig Tour of the Beautiful Basics of Science…
"Every sentence sparkles with wit and charm. . . it all adds up to an intoxicating cocktail of fine science writing." --Richard Dawkins

"Natalie Angier provides a masterful, authoritative synthesis of the state of knowledge across the entire scientific landscape." --Howard Gardner, Harvard University, author of Five Minds for the Future and Frames of Mind

"An essential experience . . . How dare she write so artfully, explain so brilliantly, rendering us scientists simultaneously proud and inarticulate!" --Leon Lederman, Nobel laureate

"Every single sentence . . . sparkles with enough intelligence and wit to delight science-phobes and science-philes alike. I loved it!" --Barbara Ehrenreich, author of Bait and Switch and Nickel and Dimed

"Natalie Angier makes planets and particles sexy. . .She turns guys with lab coats and pocket protectors into Daniel Craig." --Sylvia Nasar, author of A Beautiful Mind

"Exuberant . . . She writes with such verve, humor, and warmth." Library Journal Starred

"This bestselling author's love of words is writ large here . . . the excitement and challenge of science [is] masterfully conveyed." Kirkus Reviews, Starred

"Angier is a nimble stylist with a playful sense of alliteration and consonance." --Ben Dickinson Elle

"An excellent introduction (or refresher) to the beautiful basics of science, and I hope it is widely read." --Steven Pinker The New York Times Book Review
Houghton Mifflin Harcourt, 9780618242955, 304pp.
Publication Date: May 1, 2007
or
Not Currently Available for Direct Purchase