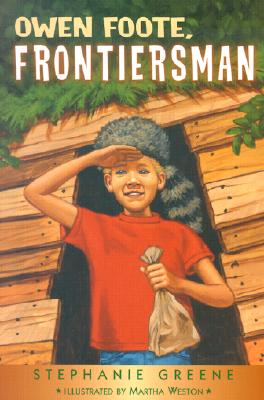 Owen Foote, Frontiersman (Paperback)
Clarion Books, 9780618246205, 96pp.
Publication Date: September 23, 2002
Other Editions of This Title:
Hardcover (9/20/1999)
* Individual store prices may vary.
Description
Wearing his coonskin cap, carrying his book about animal tracks, and armed with a jar of red pepper flakes in case he meets a bear or a mountain lion, Owen feels like a pioneer when he goes into the woods with his best friend, Joseph. But there are other kinds of varmints in the wilderness-not bears and mountain lions, but two big kids who have nothing better to do than trash a treehouse fort. It's up to Owen and Joseph to stop them, and so, following in the footsteps of his hero, Daniel Boone, Owen makes the forest his teacher. Using all the woodland lore at his disposal, Owen comes up with new identities for himself and Joseph-Wolverine and Badger-and a plan to drive out the intruders and reclaim their kingdom.
About the Author
Martha Weston was the author and illustrator of two charming picture books about Tuck, as well as the illustrator of Clarion's successful Owen Foote books by Stephanie Greene. Martha Weston died in 2003.
Stephanie Greene is the author of many books for young readers, including the popular Owen Foote books. Ms. Greene lives in Chapel Hill, N.C. Her website is www.stephaniegreenebooks.com.