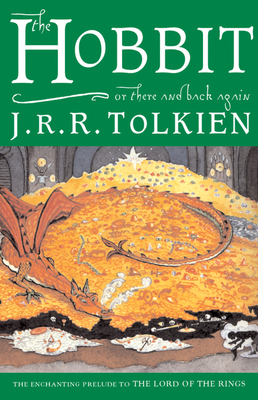 The Hobbit
Paperback

* Individual store prices may vary.
Other Editions of This Title:
Paperback (6/1/2012)
Paperback (8/1/2000)
Paperback (10/21/2014)
Hardcover (9/24/2001)
Description
In a hole in the ground there lived a hobbit. Not a nasty, dirty, wet hole, filled with the ends of worms and an oozy smell, nor yet a dry, bare, sandy hole with nothing in it to sit down on or to eat: it was a hobbit-hole, and that means comfort.
Written for J.R.R. Tolkien's own children, The Hobbit met with instant critical acclaim when it was first published in 1937. Now recognized as a timeless classic, this introduction to the hobbit Bilbo Baggins, the wizard Gandalf, Gollum, and the spectacular world of Middle-earth recounts of the adventures of a reluctant hero, a powerful and dangerous ring, and the cruel dragon Smaug the Magnificent. The text in this 372-page paperback edition is based on that first published in Great Britain by Collins Modern Classics (1998), and includes a note on the text by Douglas A. Anderson (2001). Unforgettable!

Praise For The Hobbit…
"One of the most freshly original and delightfully imaginative books for children that have appeared in many a long day... The Hobbit is a glorious account of a magnificent adventure, filled with suspense and seasoned with a quiet humor that is irrestible... All those, young or old, who love a fine adventurous tale, beautifully told, will take The Hobbit to their hearts" The New York Times Book Review
Clarion Books, 9780618260300, 384pp.
Publication Date: August 15, 2002
About the Author
J.R.R. TOLKIEN (1892–1973) is the creator of Middle-earth and author of such classic and extraordinary works of fiction as The Hobbit, The Lord of the Rings, and The Silmarillion. His books have been translated into more than fifty languages and have sold many millions of copies worldwide.