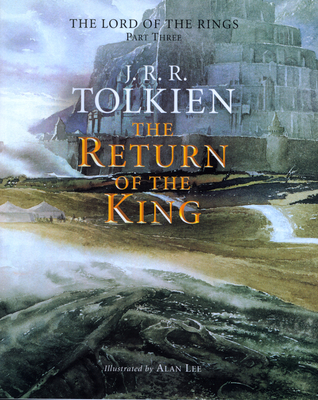 The Return of the King
Being the third part of The Lord of the Rings
Hardcover

* Individual store prices may vary.
Other Editions of This Title:
Paperback (6/1/2005)
CD-Audio (2/6/2002)
Description
The standard harcover edition of the concluding volume of The Lord of the Rings includes a large format fold-out map and extensive appendices. As the Shadow of Mordor grows across the land, the Companions of the Ring have become involved in separate adventures. Aragorn, revealed as the hidden heir of the ancient Kings of the West, has joined with the Riders of Rohan against the forces of Isengard, and takes part in the desperate victory of the Hornburg. Merry and Pippin, captured by Orcs, escape into Fangorn Forest and there encounter the Ents. Gandalf has miraculously returned and defeated the evil wizard, Saruman. Sam has left his master for dead after a battle with the giant spider, Shelob; but Frodo is still alive -- now in the foul hands of the Orcs. And all the while the armies of the Dark Lord are massing as the One Ring draws ever nearer to the Cracks of Doom.
Praise For The Return of the King: Being the third part of The Lord of the Rings…
"A triumphant close . . . a grand piece of work, grand in both conception and execution. An astonishing imaginative tour de force." -- Daily Telegraph

"An impressive achievement, unique among the imaginative works of our times." The New York Herald-Tribune
Houghton Mifflin Harcourt, 9780618260553, 432pp.
Publication Date: October 6, 2002
About the Author
ALAN LEE was born in Middlesex in 1947. His illustrated books include Faeries (with Brian Froud), Castles and Merlin Dreams, and the three 'Great Tales' of Middle-earth: The Children of Húrin, Beren and Lúthien, and The Fall of Gondolin. He has worked on such prestigious films as Erik the Viking (Terry Gilliam), Legend (Ridley Scott), and the acclaimed NBC miniseries Merlin. He is best known, however, for his work on the books The Hobbit and The Lord of the Rings, and now the film versions.

J.R.R. TOLKIEN (1892–1973) is the creator of Middle-earth and author of such classic and extraordinary works of fiction as The Hobbit, The Lord of the Rings, and The Silmarillion. His books have been translated into more than fifty languages and have sold many millions of copies worldwide.