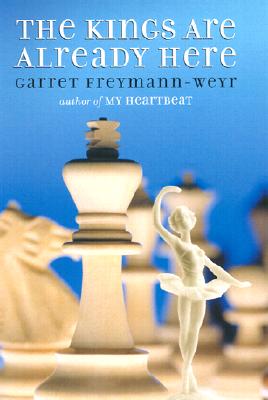 The Kings Are Already Here (Hardcover)
Houghton Mifflin Books for Children, 9780618263639, 160pp.
Publication Date: April 1, 2003
* Individual store prices may vary.
or
Not Currently Available for Direct Purchase
Description
Phebe Knight is training to become a ballerina. At fifteen, she has never once questioned that this is the life she wants. But now, one year away from joining the Company, her mind begins to wander. She decides to spend the summer with her father, who lives in Switzerland, in the hope that a change of scene will bring her focus back to the barre.
Nikolai Kotalev is a sixteen-year-old chess champion who has been befriended by Phebe's father. Nikolai is looking for the chess teacher he needs: the legendary Stas Vlajnik. Nikolai's attention never wanders. He plays beautiful chess and wants to learn from Stas how to become a grandmaster capable of both grace and speed.
Phebe, who knows what it means to follow one's obsessions, organizes a search to help Nikolai find the elusive Stas. They travel across Europe with Phebe's father and his girlfriend, hunting for Stas in all the places where chess's elegant patterns live. Phebe and Nikolai study each other's obsessions to find the lives they want.
The Kings Are Already Here explores the limits of what one is willing to pay for perfection and beauty.
About the Author
Garret Freymann-Weyr grew up in New York City and often sets her books there. She went to college at the University of North Carolina, Chapel Hill and received an MFA in film from New York University. She has written four books for young adults, including My Heartbeat, which won a Printz Honor for excellence in literature for young adults. Her books have been published in numerous countries including the Netherlands, Japan, and China. She currently lives outside Washington, D. C., with her husband. She has said that the best way to get ideas is to read a lot. "That gets you thinking in terms of story, character, and image.
Praise For The Kings Are Already Here…
"An intense, contrapuntal novel of exquisite intelligence and sensitivity." Kirkus Reviews, Starred

"As in her My Heartbeat, Freymann-Weyr creates charming, intellectual characters, and the issues with which her protagonists struggle are complex and cerebral…" Publishers Weekly, Starred

"A book likely to strike a chord with some advanced younger readers as well as Freymann-Weyr's regular fans, this is a thoughtful exploration of youthful dedication." The Bulletin of the Center for Children's Books

"…the remarkably lucid exposition of the characters' internal epiphanies, are what we've come to expect from Freymann-Weyr, who has invented a whole new language to describe the pangs of coming of age." Horn Book

"Freymann-Wyer's writing can be as elegant as a beautifully played chess game or perfect pas de deux…." Booklist, ALA

"...Freymann-Weyr captures both the dedication and the insecurities that accompany teenagers who find themselves in situations like Phebe's and Nikolai's." VOYA (Voice of Youth Advocates)
Advertisement