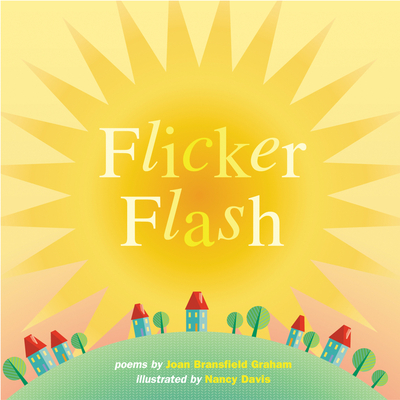 Flicker Flash
Paperback

* Individual store prices may vary.
Description
This remarkable collection of concrete poetry gives shape to light in its many forms. From the flicker of birthday candles to a flash of lightning, the powerful beam of a lighthouse to the gentle glow of a bedside lamp, light illuminates our world in wondrous ways.
Join poet Joan Bransfield Graham and artist Nancy Davis in a fantastic exploration of light, and open your eyes to an amazing new way of perceiving poetry.
Praise For Flicker Flash…
"A vivid fusion of ingenious concrete poetry and boldly colored graphics that celebrate the many shapes and forms of light. . . . This one dazzles." School Library Journal, Starred

"There are so many ways to celebrate light, and Graham sings many of them in this collection of shaped, rhymed poems. . . . This will bewitch readers with both sound and shape." Booklist, ALA

"In a follow-up to SPLISH SPLASH, Graham's collection of poems about water, the twenty-three concrete poems in this collection celebrate light in forms familiar to young children, such as a lightning bolt, a porch light, birthday candles, a refrigerator light, the sun, and the full moon. Graphic design is the outstanding feature here, as the typography is skillfully used to intensify the shapes of the poems, not only with size and placement but with color as well, so that the words themselvesbecome part of the surrounding illustration. The words of the poem "Flashlight," for example, are printed boldly in yellow, and each line grows progressively larger to reflect the flashlight beam extending from the hand of a child walking through the dark: "Flashlight / click / one flick / I am the SUN, / I chase the shadows / one by one, growing scary, / jagged, tall-with brilliant beams / I'll MELT them ALL!" Because seeing the poems here is at least as important as hearing them, this volume should have particular appeal to visual learners." Horn Book —
Clarion Books, 9780618311026, 32pp.
Publication Date: June 16, 2003
About the Author
Joan Bransfield Graham, a former teacher, has published poetry for children and adults. She grew up in New Jersey on the coast of the Atlantic Ocean.