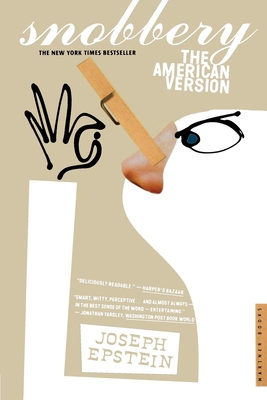 Snobbery
The American Version
Paperback

* Individual store prices may vary.
Description
A national bestseller, Snobbery examines the discriminating qualities in all of us. With dishy detail, Joseph Epstein skewers all manner of elitism in contemporary America. He offers his arch observations of the new footholds of snobbery: food, fashion, high-achieving children, schools, politics, being with-it, name-dropping, and much more. Clever, incisive, and immensely entertaining, Snobberyexplores the shallows and depths of status and taste -- with enviable results.
Praise For Snobbery: The American Version…
"[SNOBBERY is] like a chorus line of wonderful observational one-liners . . . All these gems add up to a fun and funny read." --Joan O'C. Hamilton Business Week

"[SNOBBERY] is a captivating jeu d'esprit of a book, one that brims over with illuminating perceptions . . ." --Daphne Merkin Elle

"It's hard to criticize a writer who can make you laugh out loud on every third page . . ." --Martha Bayles The New York Times Book Review

"[E]ngaging . . . Epstein [is] one of America's best essayists . . ." --Richard Stengal Time Magazine

". . . [W]onderfully engaging . . . marvelous . . ." --David Brooks The Wall Street Journal

". . . [Epstein] has a wickedly wonderful sense of humor and keen observational skills . . ." Publishers Weekly

"A deliciously readable analysis of the origins of snobbery and its myriad cultural manifestations . . ." Harper's Bazaar
Mariner Books, 9780618340736, 288pp.
Publication Date: July 7, 2003
About the Author
JOSEPH EPSTEIN is the author of the best-selling Snobbery and of Friendship, among other books, and was formerly editor of the American Scholar. His work has appeared in The New Yorker, Harper's Magazine, the Atlantic Monthly, and other magazines. He lives in Evanston, Illinois.