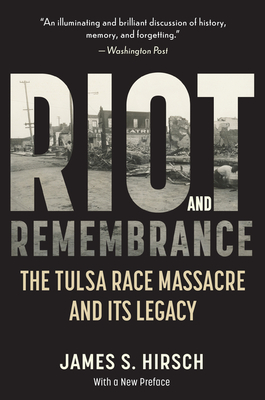 Riot and Remembrance
The Tulsa Race Massacre and Its Legacy
Paperback

* Individual store prices may vary.
Description
With a new preface, a "profound, chilling, and heartbreaking, contribution to American history" that investigates the causes of the twentieth century's deadliest race riot and how its legacy has scarred and shaped a community (Boston Globe).

On May 30, 1921, a misunderstanding between a white elevator operator and a Black delivery boy escalated into the worse race riot in U.S. history. In this compelling and deeply human account, James Hirsch investigates how the Tulsa riot erupted, how it was covered up, and how the survivors and their descendants fought for belated justice.

"Superbly researched and engagingly written" (Fort Worth Morning Star), Riot and Remembrance powerfully chronicles one community's effort to overcome a horrific legacy, revealing how the segregation of history and memory affects all Americans a hundred years later.
"The best book yet on the Tulsa riots, and one that should be required reading."—Seattle Times
Praise For Riot and Remembrance: The Tulsa Race Massacre and Its Legacy…
"Drawing on oral histories of survivors as well as on studies by local scholars, Hirsch tells us what can be reliably said about Tulsa's 'race war' and recounts efforts by modern-day Tulsans to recover and atone for the past....Absorbing and horrendous at the same time: an important contribution to American history." (starred review) Kirkus Reviews with Pointers
"Hirsch's reconstruction of this history , which reads as a horrifying narrative, is illuminating....Hirsch unearths an important episode in U.S. history with verve, intelligence, and compassion." Publishers Weekly, Starred
"Riot and Remembrance...is a quietly devastating account of Tulsa's two-day convulsion of blood and of the struggle years later to return the riot to living memory." Time Magazine
"What echoes clearest in this moving, important book is how great a debt is owed...to disadvantaged African Americans in all the Tulsas of this country who continue to reel from the wounds of state-fostered injustice." --Mother Jones
"An illuminating and brilliant discussion of history, memory and forgetting. In his convincing account, Hirsch shows how the wounds of racial division are far from healed." The Washington Post
"Remarkable...the best book yet on the Tulsa riots, and one that should be required reading." Seattle Post-Intelligencer
Mariner Books, 9780618340767, 384pp.
Publication Date: June 6, 2003
About the Author
JAMES S. HIRSCH is a former reporter for The New York Times and The Wall Street Journal, and he is author of ten books, including biographies of Willie Mays and Rubin "Hurricane" Carter.