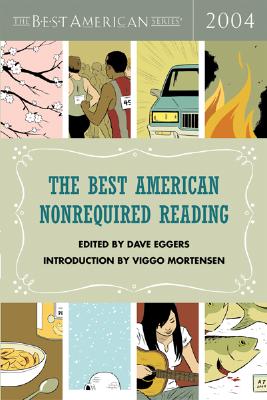 The Best American Nonrequired Reading 2004
Hardcover

* Individual store prices may vary.
Other Editions of This Title:
Paperback (10/8/2008)
Paperback (10/10/2003)
Paperback (10/11/2006)
Paperback (10/10/2007)
Paperback (10/2/2012)
Paperback (10/8/2009)
Compact Disc (10/15/2002)
Hardcover (10/1/2006)
Paperback (10/4/2011)
Hardcover (10/1/2007)
Hardcover (10/1/2008)
Hardcover (10/1/2005)
Paperback (10/1/2004)
Paperback (10/8/2013)
Description
It's hard to imagine that it was just a year ago that we were finishing up last year's Best American Nonrequired Reading Then again, doing last year's collection last year, as opposed to this year, seems to have been the right way to go. We took a gamble on that decision, and it paid off.
Like last year, our Best American mailbag is full of letters, written in crayon and blood and begging to be answered. Let us begin.
What is this collection again? You told me last year, but I spaced. -- Dominique, Santa Monica, CA Thank you for your question, Dominique, which I am happy to answer in much the same fashion as I did last year, when you first asked. The purpose of this book is to collect good work of any kind -- fiction, humor, essays, comics, journalism -- in one place, for the English-reading consumer. The first edition of the book could also be used as a low-frequency ham radio, but this feature has been discontinued.
Who are these "826 All-Stars" who are credited with co-editing this book? -- Dan and Becky, Newport, RI The 826 All-Stars is a moniker for a student committee, stalwart and true, that sifts through virtually everything published in the United States in a given year and from this morass -- did we say morass? We meant to say bounty -- finds the best twenty-five or so writings that work together and don't include references to bestiality or John Ashcroft or both. The student committee goes by these names: Alexei Wajchman, Kevin Feeney, Alison Cagle, Jeremy Ashkenas, Juliet Linderman, Adrienne Mahar, Antal Polony, Francesca Root-Dodson, Sabrina Ramos, and Jennifer Florin. They are all high school students from the San Franciso Bay area.
What sorts of things were eligible? Work from any periodicals at all? -- Dorsetta Cable, Pacifica, CA It's nice to hear from you, Dorsetta. The answer to your question is yes, as long as these periodicals are American and not about stereos of zombies or poetry. We always make a very concerted effort to include work from lesser-known magazines and quarterlies and Web sites, and we did find some great things in some small-circulation publications -- we did a better job of including such work this year than ever before. You should be very proud of your daughter.
Why is Viggo Mortensen writing an introduction to this book? You would think he would have better things to do. Was this part of some kind of work-release program or what? -- Lucy Hackett, Medfield, MA This collection's mission, if there is one -- and there isn't -- is to bring new writing to new audiences. We hope that people will pick up this book after seeing the name or names of a few writers they like and then become exposed to other good people who write. Viggo has been associated with 826 Valencia for some time, having helped us with fund-raising and such. He is also a noted poet and artist, and thus the perfect ambassador for this collection, bringing, we hope, new people to some great contemporary writing. We can only hope that this introduction-writing business takes off for him, given how lucrative it is and how much glory attends it.
Houghton Mifflin Harcourt, 9780618341221, 448pp.
Publication Date: October 1, 2004
or
Not Currently Available for Direct Purchase