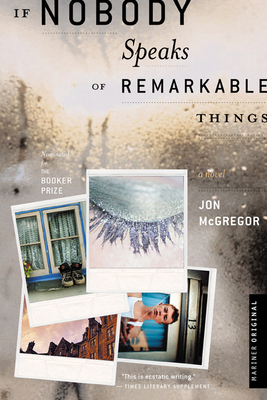 If Nobody Speaks of Remarkable Things (Paperback)
Mariner Books, 9780618344581, 288pp.
Publication Date: November 4, 2003
* Individual store prices may vary.
Description
Risky in conception, hip and yet soulful, this is a prose poem of a novel -- intense, lyrical, and highly evocative -- with a mystery at its center, which keeps the reader in suspense until the final page. In a tour de force that could be described as Altmanesque, we are invited into the private lives of the residents of a quiet urban street in England over the course of a single day. In delicate, intricately observed closeup, we witness the hopes, fears, and unspoken despairs of a diverse community: the man with painfully scarred hands who tried in vain to save his wife from a burning house and who must now care for his young daughter alone; a group of young clubgoers just home from an all-night rave, sweetly high and mulling over vague dreams; the nervous young man at number 18 who collects weird urban junk and is haunted by the specter of unrequited love. The tranquillity of the street is shattered at day's end when a terrible accident occurs. This tragedy and an utterly surprising twist provide the momentum for the book. But it is the author's exquisite rendering of the ordinary, the everyday, that gives this novel its freshness, its sense of beauty, wonder, and hope. Rarely does a writer appear with so much music and poetry -- so much vision -- that he can make the world seem new.
About the Author
Jon McGregor published his first novel in Britain in 2002 to critical acclaim, and was inspired in part by the phenomenal media attention that surrounded the death of Princess Diana. He has written numerous short stories leading, in part, to the development of some of his novels. He founded the Nottingham Writer's Studio in 2006 and also taught a course at Arvon. McGregor lives in Nottingham, England.
Praise For If Nobody Speaks of Remarkable Things…
"[McGregor's] sharp eye and broad sympathies show a true novelistic sensibility and a sizable talent." Kirkus Reviews

"A wonderful evocation of the beauty and horror of the literally everyday." Booklist, ALA, Starred Review

"Absolutely resplendent, the work of a true seer who does for urban England what John Cheever did for Westchester County." Bookpage

"Poignant." Publishers Weekly

"This is fast fiction, as fast as the mind works . . . it's what James Joyce and Virginia Woolf worked to achieve." Los Angeles Times

"What James Joyce and Virginia Woolf worked to achieve." -- A Los Angeles Times Best Book of 2003

Los Angeles Times

"Nameless though they may be, McGregor's characters become momentarily vivid through his keen sense of detail and lyrical writing style." The San Francisco Chronicle