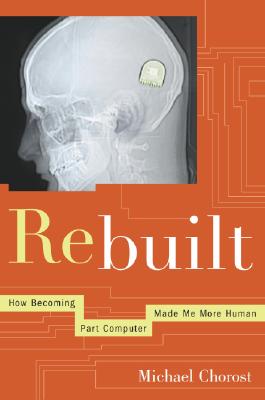 Rebuilt
How Becoming Part Computer Made Me More Human
Hardcover

* Individual store prices may vary.
Other Editions of This Title:
Paperback (5/19/2006)
Description
Michael Chorost became a cyborg on October 1, 2001, the day his new ear was booted up. Born hard of hearing in 1964, he went completely deaf in his thirties. Rather than live in silence, he chose to have a computer surgically embedded in his skull to artificially restore his hearing.

This is the story of Chorost's journey -- from deafness to hearing, from human to cyborg -- and how it transformed him. The melding of silicon and flesh has long been the stuff of science fiction. But as Chorost reveals in this witty, poignant, and illuminating memoir, fantasy is now giving way to reality.

Chorost found his new body mystifyingly mechanical: kitchen magnets stuck to his head, and he could plug himself directly into a CD player. His hearing was routinely upgraded with new software. All this forced him to confront complex questions about humans in the machine age: When the senses become programmable, can we trust what they tell us about the world? Will cochlear implants destroy the signing deaf community? And above all, are cyborgs still human?

A brilliant dispatch from the technological frontier, Rebuilt is also an ode to sound. Whether Chorost is adjusting his software in a desperate attempt to make the world sound "right" again, exploring the neurobiology of the ear, or reflecting on the simple pleasure of his mother's voice, he invites us to think about what we hear -- and how we experience the world -- in an altogether new way.

Brimming with insight and written with dry, self-deprecating humor, this quirky coming-of-age story unveils, in a way no other book has, the magnificent possibilities of a new technological era.

For more information about Michael Chorost and Rebuilt, visit http://www.rebuilt-thebook.com.
Praise For Rebuilt: How Becoming Part Computer Made Me More Human…
"Deeply enjoyable...Chorost is at the vanguard of where most baby-boomers will end up--part human and part machine." --Rodney Brooks, director of the MIT Computer Science and Artificial Intelligence Lab and author of Flesh and Machines

"Chorost takes us on an amazing intellectual journey...[and he] has a fine ear for language...A lovely book." --Robin Marantz Henig, author of Pandora's Baby and The Monk in the Garden

"Chorost is a quite amazing new writer whose prose spirits the reader across the sound barrier..." --Sol Stein, author of Stein on Writing and (with James Baldwin) Native Sons

"Chorost has written a wonderfully fascinating account of banishing total deafness...Beethoven would be encouraged." --Manfred Clynes, coiner of the term "cyborg" and Professor of Biophysics at Georgetown University

"This is a terrific book--an eyewitness bulletin from the borderlands where technology and bodies clash and meld. I read it through in one huge chomp, shouting and chortling at this adventure or that. Chorost pulls off the high-wire stunt of conveying scientific accuracy about a complex biomedical topic while writing with the cliffhanger excitement of an action adventure videogame." --Allucquére Rosanne Stone, author of The War of Desire and Technology at the Close of the Mechanical Age

"An exemplary first-person account of becoming a cyborg. Rebuilt combines technical and philosophical erudition with fine writing." --Chris Hables Gray, author of Cyborg Citizen: Politics in the Posthuman Age and editor of The Cyborg Handbook

"Rebuilt is a heartfelt exploration of technologically mediated perception...Chorost's journey is that of humanity itself." -- Andy Clark, author of Natural-Born Cyborgs

"Readers will find much food for thought . . . in this beautifully written debut." Publishers Weekly

"A real marvel is Michael Chorost...he brings to his fascinating subject great intellectual clarity...compelling." --Jenny Davidson The Village Voice

"By far the most original, honest, and authoritative book I've read on human-machine interfaces." --John Horgan, The Chronicle of Higher Education

"An artfully frank account, Chorost's story will vitally engage people interested in the increasingly prevalent surgical procedure." --Gilbert Taylor Booklist, ALA

"Moving...The most hopeful thing I've read in quite a while." --Annalee Newitz, San Francisco Bay Guardian

"Graceful, poetic . . . this is a book that will make you think and, ultimately, make you smile." Library Journal Starred

"Funny and thoughtful...[Chorost's] awareness of life's fragility...strikes me as the perfect answer to opponents of implants...invaluable." --Alex Soojung-Kim Pang The Los Angeles Times
Houghton Mifflin Harcourt, 9780618378296, 240pp.
Publication Date: June 1, 2005
or
Not Currently Available for Direct Purchase