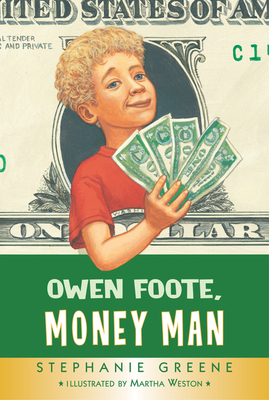 Owen Foote, Money Man (Paperback)
Clarion Books, 9780618378371, 96pp.
Publication Date: October 20, 2003
* Individual store prices may vary.
Description
Owen has discovered an amazing catalog called "Junk You Never Knew About," and found a bunch of neat stuff to buy. The only trouble is, he's broke! How can he make some cash, quick? His parents are willing to give him an allowance, but that would mean doing all sorts of boring chores. Owen is sure there's a better way—all he needs is the perfect plan. With the help of his best friend, Joseph, Owen comes up with one money-making scheme after another, but—funny thing—he's still broke. Not till Owen changes his ideas about how to make money, and how to spend it, does the tide of fortune start to flow the other way. Owen Foote's new adventure makes a hilarious and fast-paced book, perfect for kids fascinated with the joys of getting and spending money.

About the Author
Martha Weston was the author and illustrator of two charming picture books about Tuck, as well as the illustrator of Clarion's successful Owen Foote books by Stephanie Greene. Martha Weston died in 2003.
Stephanie Greene is the author of many books for young readers, including the popular Owen Foote books. Ms. Greene lives in Chapel Hill, N.C. Her website is www.stephaniegreenebooks.com.