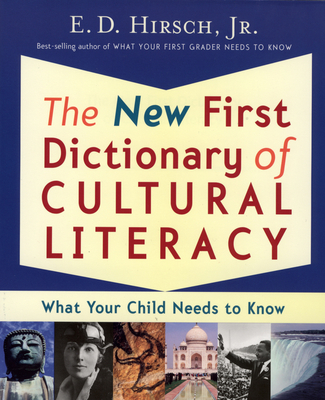 The New First Dictionary of Cultural Literacy
What Your Child Needs to Know
Paperback

* Individual store prices may vary.
Description
Fully updated for the twenty-first century, The New First Dictionary of Cultural Literacy lists essential facts in twenty-one subject areas to promote successful learning in kids.
Child education expert E. D. Hirsch Jr. cuts through the wealth of information available today to highlight terms that a child should be familiar with by the end of sixth grade. With nearly 3,000 concise definitions and including 250 new entries (like Harry Potter, centaurs, northern lights, and World Series), this popular sourcebook makes it easy for children to become literate in mythology, literature, U.S. history, science and technology, and more.
Mariner Books, 9780618408535, 320pp.
Publication Date: August 30, 2004
About the Author
E.D. Hirsch, Jr. is the Linden Kent Memorial Professor of English at the University of Virginia, Charlottesville, and the author of Cultural Literacy, The First Dictionary of Cultural Literacy, and The Core Knowledge Series. Dr. Hirsch is a fellow of the American Academy of Arts and Sciences, and has been a senior fellow of the National Endowment for the Humanities. He is president of the Core Knowledge Foundation, a nonprofit organization devoted to educational reform.