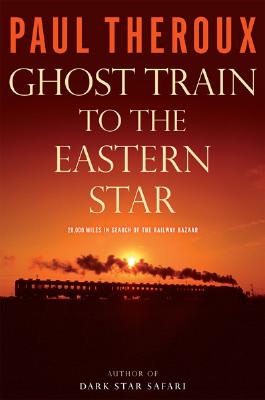 Ghost Train to the Eastern Star
On the Tracks of the Great Railway Bazaar
Hardcover

* Individual store prices may vary.
Other Editions of This Title:
Digital Audiobook (6/8/2015)
Paperback (8/6/2009)
Paperback (6/1/2010)
Description
Thirty years after the epic journey chronicled in his classic work The Great Railway Bazaar, the world's most acclaimed travel writer re-creates his 25,000-mile journey through eastern Europe, central Asia, the Indian subcontinent, China, Japan, and Siberia.

Half a lifetime ago, Paul Theroux virtually invented the modern travel narrative by recounting his grand tour by train through Asia. In the three decades since, the world he recorded in that book has undergone phenomenal change. The Soviet Union has collapsed and China has risen; India booms while Burma smothers under dictatorship; Vietnam flourishes in the aftermath of the havoc America was unleashing on it the last time Theroux passed through. And no one is better able to capture the texture, sights, smells, and sounds of that changing landscape than Theroux.
Theroux's odyssey takes him from eastern Europe, still hung-over from communism, through tense but thriving Turkey into the Caucasus, where Georgia limps back toward feudalism while its neighbor Azerbaijan revels in oil-fueled capitalism. Theroux is firsthand witness to it all, traveling as the locals do—by stifling train, rattletrap bus, illicit taxi, and mud-caked foot—encountering adventures only he could have: from the literary (sparring with the incisive Nobel laureate Orhan Pamuk) to the dissolute (surviving a week-long bender on the Trans-Siberian Railroad). And wherever he goes, his omnivorous curiosity and unerring eye for detail never fail to inspire, enlighten, inform, and entertain.

PAUL THEROUX was born in Medford, Massachusetts, in 1941 and published his first novel, Waldo, in 1967. His fiction includes The Mosquito Coast, My Secret History, My Other Life, Kowloon Tong, Blinding Light, and most recently, The Elephanta Suite. His highly acclaimed travel books include Riding the Iron Rooster, The Great Railway Bazaar, The Old Patagonian Express, Fresh Air Fiend, and Dark Star Safari. He has been the guest editor of The Best American Travel Writing and is a frequent contributor to various magazines, including The New Yorker. He lives in Hawaii and on Cape Cod.
Praise For Ghost Train to the Eastern Star: On the Tracks of the Great Railway Bazaar…
.readers will find his usual wonderfully evocative landscapes and piquant character sketches...No matter where his journey takes him, Theroux always sends back dazzling post cards." Publishers Weekly, Starred

"Theroux wanders to places that scarcely cross other travel writers' minds, among tham Vientiane ('a sleepy town on the banks of the muddy river, famous for its cheap beer') and Phnom Penh ('scruffy, rather beaten-up...like a scarred human face in which its violent past was evident'). He also keeps up a running argument with the books he reads along the way, to say nothing of his contemporaries )Chatwin never traveled alone, he harumphs, and neither does his bete noire Naipaul."

Kirkus Reviews

"Brilliant. No one writes with theroux's head-on intensity and raptness, and his descriptions made me want to jump on the next plane to Istanbul (and also, of course, to many of the other places he evokes). I particularly loved the spectral motif, the ghosts and shadows and underground presences that flit through the narrative, giving the whole a half-seen and haunting dimension that no book of travels I've ever read conjures up." --Pico Iyer

"As thoughtful and observant as ever…this trip finds Theroux reflecting not only on changes to the landscape but also to himself…a wonderful book infused with the insights of maturity…it's a reminder that in this age of increasingly homogenous urban centers and easy air travel, those who really want to discern national differences should stay on the ground."

Booklist, ALA, Starred Review
Houghton Mifflin Harcourt, 9780618418879, 512pp.
Publication Date: August 18, 2008
About the Author
PAUL THEROUX is the author of many highly acclaimed books. His novels include The Lower River and The Mosquito Coast, and his renowned travel books include Ghost Train to the Eastern Star and Dark Star Safari. He lives in Hawaii and Cape Cod.
or
Not Currently Available for Direct Purchase