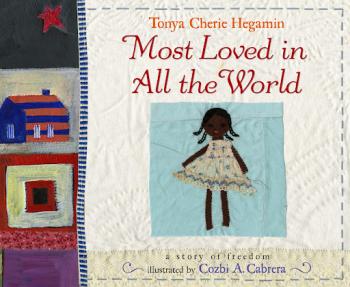 Most Loved in All the World (Hardcover)
HMH Books for Young Readers, 9780618419036, 40pp.
Publication Date: January 12, 2009
* Individual store prices may vary.
Description
An authentic and powerful account of slavery and how a handmade quilt helps a little girl leave home for freedom.

With a poet's keen ear, Tonya Hegamin tells the account of a little girl whose mother is a secret agent on the Underground Railroad. Before sending her daughter north to freedom, the mother sews a quilt for her daughter, not only to guide her with its symbols of moss and the north star, but also to remind her always that the smiling girl in the center of the quilt is "most loved in all the world." Strikingly illustrated in unique textile collaging and expressive acrylic paintings.

About the Author
Tonya Cherie Hegamin decided that she would be a writer when she was eight years old. Between then and now, she has also been a social worker, an educator, a vintage clothing vendor, a vegan soul food caterer, and the program director of a poetry retreat. Tonya is a graduate of Cave Canem and a native of Pennsylvania.
Praise For Most Loved in All the World…
"Spare language and vibrant art present a powerful message of hope during American slavery, through a mother's sacrifice and her gift of freedom. . . . Cabrera's rich acrylic paintings and textile collage add immediacy to the gripping text. An unflinching depiction of slavery's impact on families, this selection's reassuring message of love shatters all bonds."— Kirkus Reviews
"Hegamin creates a poignant voice for her young narrator, with a folksy and youthful simplicity enhanced by subtle lyricism . . . The story will elicit plenty of discusion."— The Bulletin
"Cabrera's artwork matches textured, muddy paintings—the dark, anonymous dots of hunched cotton pickers is particularly affecting—with swaths of appropriately distressed cloth. An educational author's note caps off this haunting yet hopeful presentation."— Booklist
"In a straightforward, heartfelt story written in dialect, Hegamin shows that a woman can love her child dearly yet still give her up, in the youngster's best interest. An author's note explains that debates over the authenticity of quilts used as maps continue; Hegamin states that she used the quilt as a symbol and story device. The artwork matches the tone of the story well, featuring dark images interspersed with quilted blocks that bring brightness to the primitive-style paintings. Patchwork endpapers that incorporate recognizable quilt blocks add to the homespun feel of the story."
— School Library Journal
"This excellent book also showcases strong artwork (acrylic paint and textile collage) by artist Cozbi A. Cabrera, well known for making handcrafted cloth dolls. Her art conveys not only the details of this Underground Railroad story, but the beauty and handwork of the quilting, so central to this story."—BookPage
or
Not Currently Available for Direct Purchase