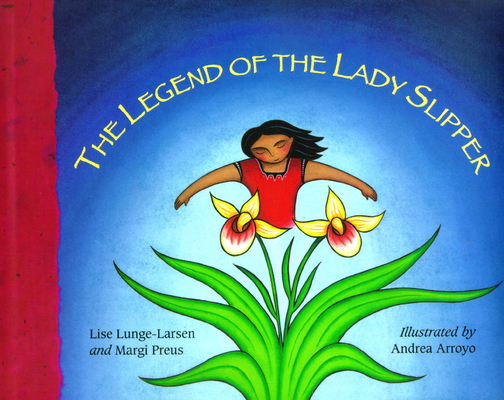 The Legend of the Lady Slipper
Paperback

* Individual store prices may vary.
Other Editions of This Title:
Hardcover (3/26/1999)
Description
The lady slipper grows in the northern woods to mark the courage and strength of a small girl who lived there long ago - a girl who saved her people from a terrible disease by listening carefully to the whispering snow, the rumbling ice, and the dancing northern lights. Illustrated with paintings as graceful and delicate as the lady slipper itself, this unforgettable retelling shows how a child's lost slippers became one of nature's most lovely spring flowers.
Praise For The Legend of the Lady Slipper…
The Ojibwa tell a story of the moccasin flower, called lady slipper in English, a beautiful woodland blossom. First-time children's authors but longtime storytellers Lunge-Larsen and Preus use native sources and tell the sweet legend in a powerful way. The only one left whole when a devastating disease strikes her village, a girl sets out in deep winter to a neighboring village to get healing herbs to save the sick. She does not stay the night but starts back immediately and is caught in drifted snow. The snow whispers, "Be wise!" and she figures out, like the fox, how to free herself. But her fur-lined moccasins are left behind. She perseveres, with frozen and bleeding feet, to save her village. In the spring, when she returns to look for her moccasins, she finds instead a patch of small pink-and-white flowers shaped like the shoes. Clear, limpid colors enhance the decorative effect of the illustrations, whose lively line and use of pattern are reminiscent of beadwork. An authors' note and bibliography are included, and the authors particularly thank several Ojibwa language scholars for their assistance in the cadences of the language. Booklist, ALA

Arroyo's simple, striking illustrations fit well with this moving story about a young girl who braves a snowstorm to get medicinal herbs when the villagers become ill. She loses her moccasins and leaves bloody footprints on the path, which that spring is lined with flowers that come to be known as the moccasin flower, or lady slipper. The text, which is sprinkled with Ojibwe words, is spare but effective. Horn Book

Lunge-Larsen and Preus debut with this story of a flower that blooms for the first time to commemorate the uncommon courage of a girl who saves her people from illness. The girl, an Ojibwe of the northern woodlands, knows she must journey to the next village to get the healing herb, mash-ki- ki, for her people, who have all fallen ill. After lining her moccasins with rabbit fur, she braves a raging snowstorm and crosses a dark frozen lake to reach the village. Then, rather than wait for morning, she sets out for home while the villagers sleep. When she loses her moccasins in the deep snow, her bare feet are cut by icy shards, and bleed with every step until she reaches her home. The next spring beautiful lady slippers bloom from the place where her moccasins were lost, and from every spot her injured feet touched. Drawing on Ojibwe sources, the authors of this fluid retelling have peppered the tale with native words and have used traditional elements, e.g., giving voice to the forces of nature. The accompanying watercolors, with flowing lines, jewel tones, and decorative motifs, give stately credence to the story's iconic aspects.
Kirkus Reviews
HMH Books for Young Readers, 9780618432318, 32pp.
Publication Date: May 25, 2004
About the Author
Margi Preus is a playwright and artistic director of Colder by the Lake comedy theater.

Lise Lunge-Larsen is an award-winning author and a professional storyteller. Born and raised in Norway, she lives with her family in the hills of Duluth, Minnesota.