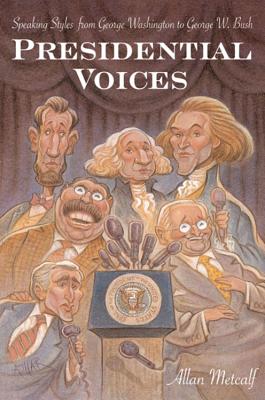 Presidential Voices
Speaking Styles from George Washington to George W. Bush
Paperback

* Individual store prices may vary.
Description
Perhaps more than anyone else, politicians are what they say — and how they say it. In Presidential Voices, Metcalf examines both how the presidents have spoken to the American public and how the American public has wanted its presidents to speak.
Drawing on a wide variety of sources, Metcalf shows what contemporaries have said about the chief speakers in the White House. He explores the distinctive words that our presidents favored (and in many cases coined), along with the regional accents that livened the Oval Office. In addition, he uncovers the hidden influence of speechwriters and the changing media on how presidents present themselves to voters. He concludes his survey of presidential speech with entertaining linguistic portraits of all forty-three presidents.
From Silent Cal to the Great Communicator, Presidential Voices sheds new and original light on the ways in which our commanders in chief have commanded the language. After reading this book, you will never again take what our president says for granted.
Houghton Mifflin Harcourt, 9780618443741, 352pp.
Publication Date: July 14, 2004
About the Author
Allan Metcalf is a professor of English at MacMurray College, executive secretary of the American Dialect Society, and author of books on language and writing. His books on language include AMERICA IN SO MANY WORDS (with David K. Barnhart), THE WORLD IN SO MANY WORDS, HOW WE TALK: AMERICAN REGIONAL ENGLISH TODAY, PREDICTING NEW WORDS, and PRESIDENTIAL VOICES. His books on writing include RESEARCH TO THE POINT and ESSENTIALS OF WRITING TO THE POINT. He lives in Jacksonville, Illinois.