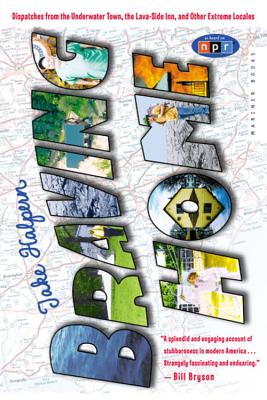 Braving Home
Dispatches from the Underwater Town, the Lava-Side Inn, and Other Extreme Locales
Paperback

* Individual store prices may vary.
Other Editions of This Title:
Hardcover (7/1/2003)
Description
Funny, moving, and utterly unique, Braving Home introduces us to five unforgettable modern American pioneers. When Jake Halpern was a cub reporter, he became obsessed with stories about "some outlandish and often hellish place inhabited by a handful of stalwarts who refused to leave." His fellow reporters joked with him and nicknamed him the Bad Homes Correspondent. But the more he learned about these people, the more he was drawn to them.
Determined to understand their fierce devotion to home, Halpern set off on a journey to five of the most punishing towns in America. Braving Home is his irresistible portrait of these hometowns and his friendships with their most loyal residents. In North Carolina, he meets a retired mill worker who single-handedly manned his hometown in the wake of a devastating flood. In Alaska, Halpern works for a spunky woman who runs a video store/tanning salon and delivers newspapers to an "indoor town" – a lone snowbound high-rise at the foot of a glacier. At the base of a Hawaiian volcano, he stays with a hermit whose house, formally an inn, was surrounded by molten lava. In Malibu, nestled among the glitterati, a longtime "hillbilly" teaches him the traditions of firefighting. Finally, on a barrier island off the coast of Louisiana, a legendary storm rider tells of surviving hurricanes – even if it means tying one's hair to a tree.
Throughout his journey, Halpern explores the value of rootedness in an age when American society is more mobile than ever. Along the way, he discovers why no amount of floods, lava, wind, fire, or hurricanes can tug these unforgettable people from their roots.
Mariner Books, 9780618446629, 256pp.
Publication Date: June 7, 2004
About the Author
Jake Halpern is a journalist and author born in 1975. His book, Braving Home was a main selection for the Book of the Month Club by Bill Bryson and was a Library Journal Book of the Year. He is a contributor to NPR's All Things Considered and This American Life. He has written for The New York Times Magazine, The New Yorker, The Wall Street Journal, Sports Illustrated, The New Republic, Slate, Smithsonian, Entertainment Weekly, Outside, New York Magazine, and other publications. He is a fellow of Morse College at Yale University, where he teaches a class on writing.