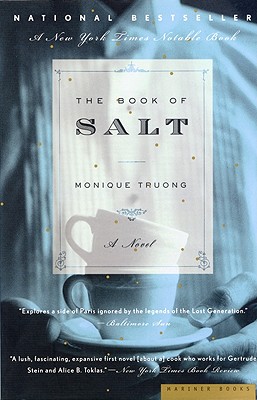 The Book of Salt
A Novel
Paperback

* Individual store prices may vary.
Other Editions of This Title:
Digital Audiobook (7/31/2013)
MP3 CD (8/1/2013)
Compact Disc (8/1/2013)
Paperback (7/1/2004)
Compact Disc (8/1/2013)
Description
The Book of Salt serves up a wholly original take on Paris in the 1930s through the eyes of Binh, the Vietnamese cook employed by Gertrude Stein and Alice B. Toklas. Viewing his famous mesdames and their entourage from the kitchen of their rue de Fleurus home, Binh observes their domestic entanglements while seeking his own place in the world. In a mesmerizing tale of yearning and betrayal, Monique Truong explores Paris from the salons of its artists to the dark nightlife of its outsiders and exiles. She takes us back to Binh's youthful servitude in Saigon under colonial rule, to his life as a galley hand at sea, to his brief, fateful encounters in Paris with Paul Robeson and the young Ho Chi Minh.
Mariner Books, 9780618446889, 272pp.
Publication Date: June 15, 2004
About the Author
MONIQUE TRUONG was born in Saigon in 1968 and moved to the United States at age six. She graduated from Yale University and the Columbia University School of Law, going on to specialize in intellectual property. Truong coedited the anthology Watermark: Vietnamese American Poetry and Prose. Her first novel,The Book of Salt, a national bestseller, was awarded the 2003 Bard Fiction Prize, the Stonewall Book Award-Barbara Gittings Literature Award, and the Young Lions Fiction Award, among other honors. Granting Truong an Award of Excellence, the Vietnamese American Studies Center at San Francisco State University called her "a pioneer in the field, as an academic, an advocate, and an artist."
"Gertrude Stein thinks it is unfathomably erotic that the food she is about to eat has been washed, pared, kneaded, touched, by the hands of her lover." How is food — and cooking — used as seduction in The Book of Salt? Compare the meals between Gertrude Stein and Alice B. Toklas with the meals Bính shares with Sweet Sunday Man and the man on the bridge. How is the reader also seduced or persuaded by these meals? Have you ever wooed someone with what you fed them?
Bính says, "All my employers provide me with a new moniker, whether they know it or not . . . Their mispronunciations are endless, an epic poem all their own." How is Bính "lost in translation" in The Book of Salt? His interior monologue is lush and eloquent, but he can speak only a few words in French and English — what is the reader privy to that the other characters are not? Have you ever lived in a place where you weren't able to fully speak your mind?
O Magazine said, "Salt, whether from 'kitchen, sweat, tears, or the sea' — is the secret of this perfectly rendered book." How is salt used as an ingredient in Bính's story?
What does Gertrude Stein's (invented) manuscript, "The Book of Salt," have to do with The Book of Salt? Sweet Sunday Man tells Bính that Gertrude Stein's version "captured you perfectly." Could that be true? How do you imagine it reads?
The Book of Salt begins with Bính waiting for the train that will lead the Steins to America. He seems to be facing a choice: "I thought that fate might have been listening in . . ." How did you expect the story to end? Did you think that Bính would leave Paris? Where would he go? How did the ending of the novel surprise you?
Bính says, "Love is not a bowl of quinces yellowing in a blue and white china bowl, seen but untouched." Is love what Bính is looking for in Paris? He does finally get his much-desired photograph of Sweet Sunday Man, and Sweet Sunday Man also takes a rare item. How is love given and taken throughout the story? What are the characters left with? Have you kept (or stolen) artifacts of a past love?
Bính says, "When I am telling the truth, why does it so often sound like a lie?" Do you believe Bính's stories? What is the importance of truth in The Book of Salt, and what are the consequences of lies? Do you ever tell stories differently than others remember them?
When the Steins vacation outside Paris with Bính, he says, "What you probably do not know, Gertrude Stein, is that in Bilignin you and Miss Toklas are the only circus act in town. And me, I am the asiatique, the sideshow freak." How are the Steins and Bính aligned as outsiders? And how are they not? What is revealed in the Steins' response to Lattimore and Paul Robeson — how is it different from the Bilignin villagers' response to Bính?
". . . the Old Man's anger has no respect for geography…even here, he finds me." Does Bính seem "shamed" by his exile? Does he seem freed? How do we carry the judgment of our parents? What "voices" followed you when you first left your family home?
Bính uses the color red often when describing his mother: "Red is luck that she had somehow saved, stored, and squandered on her youngest son." What other meanings does he give to red? Why does he cut his fingertips? Did Bính's vision of the gray pigeon in the park change your understanding of his mother, and of what Bính left behind in Vietnam?
Bính says of the Steins' apartment, "This is a temple, not a home." Do you agree? Are you familiar with the works of Gertrude Stein or Alice B. Toklas? Has The Book of Salt changed the way you think of them?
Who is the scholar-prince? Do you think Bính ever finds his? Did his mother find hers? How much do folk and fairy tales shape what we expect from romantic love? Do you have a certain myth in mind when you think of "ever after"?